ICELAND, THE ISLAND OF ICE AND FIRE

Iceland is one of the most fascinating places on our planet, a country worth visiting at least once in a lifetime. In this beautiful island located in the North Atlantic you can expect the unexpected. Before a visit to Iceland, you might mistakenly believe the country is a frozen wasteland, but after a visit you'll have experienced the many wondrous natural spectacles found in one small island, making it uniquely different from any other country in Europe. In the case of our founder and director, it was love at first sight when arriving in July of 1997 and the result can be seen here: a web page dedicated entirely to Iceland, a travel agency designed so that anyone can fulfill their dream. This is why our motto is: "Stop dreaming and come".
ICELAND, THE COUNTRY OF YOUR DREAMS
Iceland hosts some of the most impressive landscapes in Europe and the world: volcanoes, geysers, thermal lagoons, glaciers, the Northern Lights and more. Iceland is nature in its purest form, one of the last virgin territories in Europe and an island that, despite a growth in tourism year after year, manages to maintain the magic and tranquility of the past. In this fascinating island found in the North Atlantic only about 338,500 inhabitants live, of which a great majority (217,000) are located in the capital, Reykjavík, a city known for its modernity and cosmopolitan vibes, which makes for a perfect contrast with the rest of the country. In Reykjavík you can find the comforts of the great cities of Europe but with its own personal touch: modern architecture of Scandinavian type, restaurants that offer traditional but innovative gastronomy, original art galleries, shops with the latest fashions and, of course, a bubbling atmosphere and very friendly people. The rest of the island, however, is like a trip back in time to a place where around each corner you'll discover a place yet unaffected by man. Waterfalls, glaciers, springs, and lava fields dominate the landscapes of an uninhabited island, a unique phenomenon in Europe that makes Iceland a distinct and extraordinary country.
TRAVEL TO ICELAND
It is our pleasure and honor to take the time and offer you our personal recommendations for your trip to Iceland, whether you wish to discover Iceland at your own pace or you are looking for an organized trip to rid yourself of the planning and work involved, you should know a few things that you won't find in any guidebook or any travel blog.
The first thing is that Iceland is not an "easy" country. If you are not used to traveling on your own, buying an organized package is definitely a wise and efficient way to plan your trip, not only because of the time you save and the lack of hassle, but because finding some of the more out-of-the-way places is not as easy as it may seem when reading a travel guide. The second thing is that buying an organized trip does not mean taking the classic route in hotels and buses. In Iceland there are packages for all tastes, from the most "comfortable" to the most "adventurous" and we have selected the ones we like best ones among all international suppliers.
That being said, visiting Iceland with your own agenda and at your own speed can be a wonderful trip. If you plan it well in advance there is nothing better than getting lost in this wonderful island and discovering it for yourself. Due to the weather, the best time for the weather is the high season, mid June - mid September. But be careful, because this island is increasingly popular and there are limits to its capacity. During some summer weekends or holidays it may be impossible to find accommodation in Reykjavík. It is also not easy to find accommodation around the island, especially in certain areas such as Vík, Akureyri, Lake Mývatn or between Skaftafell National Park and the city of Höfn. The same can happen to you with motorhomes and vans, some excursions, and tickets and flights to Iceland. That is why it is advisable to book everything mentioned well in advance. If you travel outside the peak season, the situation is easier because the demand is lower and there are more possibilities, however, of course the weather, the hours of light, and the road conditions are not the same. If your style is adventurous and you want to see the island inside and out, summer is your best option to travel to Iceland.
ACCOMMODATION
Iceland boasts all types of accommodation. The level of accommodation is equal or, more often than not, superior in all ways to that of the rest of Europe (excluding the occasional 4-5 star hotel). Almost all accommodations offer excellent service, include delicious breakfast and maintain a high standard of hygiene. When looking for accommodation, you have to take into account that not only large hotels, but also family pensions, rural houses and even farmhouses work with travel agencies in Iceland. Therefore, many rooms are already fully booked up to two years in advance. This limited capacity makes it difficult to find available accommodation when you arrive. The easiest way is to book the accommodations online or included in a package, always many months in advance.
As for cabins at Iceland, they are usually full during summer because of the high demand. It is, without a doubt, a very authentic experience, which will bring you closer to the daily life of Icelanders in the countryside, and a great way to travel if you go with plenty of time and want to spend more than one night in the same place. The farmhouses are more suitable accommodation for a single night. The price of the cabins does not normally include breakfast or cleaning (if not included, it is the responsibility of the guest(s) or may be an additional charge).
VEHICLES and TRANSPORT
When it comes to vehicles, Iceland can be seen calmly with a normal all-wheel drive car. If you want to travel in summer and go around the entire island, you do not need an SUV. When traveling National Highway 1 (the "Ring Road"), you will not have any problem finding the most important and well-known natural monuments of the island. But if you travel to Iceland with the desire to see something else, to discover the true essence of Iceland, or plan to travel during the winter months, you will definitely need a 4x4 vehicle. Mother Nature presents dramatic colors which dominate the landscapes of Landmannalaugar, Thórsmörk, Askja and Hekla, where many surprises await you. To discover them, you will have no other option but to rent a 4x4 SUV, as it is mandatory on F-type roads.
EXCURSIONS IN ICELAND
Of course, you can always hire organized excursions or book a tour in Iceland that will take you to these more difficult to reach places. A guided tour will allow you to discover the true nature of Iceland through the eyes of a local who will help to uncover the most hidden and wildest corners. Also, if you want to explore caves, climb atop glaciers, raft down glacier fed rivers, go diving or snowmobiling, see majestic whales, and so much more you will have to book a tour with specialized guides and mandatory safety equipment. On our pages you will find the best selection of excursions, from the most classic to the most adventurous, so you can make the most of your trip.
ICELAND AND ITS CLIMATE
Everyone always wonders when is the best time to travel to Iceland and the answer is not as easy as it would seem, as it depends on what you are looking for. If you want to see the Northern Lights and connect with the real Iceland, the best time is during the winter, which is from mid-October to the end of March. Undoubtedly, it will be a bit cold but it will be worth it since you will get to know Iceland in its own environment - icy and dark but brimming with life - and to experience the truly authentic daily life of the Icelanders, taking a dip into the thermal pools surrounded by snowy landscapes and see the Northern Lights after dark. If you are someone who cannot decide and wants a little of everything, you can travel between September and October or at the end of March till April. With a little luck, you can see the auroras and also enjoy many hours of daylight by which to travel. If you want to travel to Iceland during its most popular times, you have to come in the months of July and August when it is the high season during which you have the best climate for traveling. Also, if you like hiking and want to do some of the most famous treks in the world, such as the Laugavegur trail, this is the only period in which you can venture into the interior of the island on your own. By planning your trip well, you can enjoy everything to its fullest potential. But if you come poorly prepared, you will spend many hours looking for accommodation, prices will be sky high, you will not find the car you want and the stress and nerves will overtake you. If I had to choose, I think the best time to come is a little before or after the high season (in June or early September), when the weather is still nice but there are not as many people as between July and August. Also, in June there is hardly any night, giving you maximum time to see Iceland in all its splendor. Whichever month you choose to travel to Iceland, we wish you a very good trip! Zuzana & Jan
GENERAL INFORMATION ABOUT ICELAND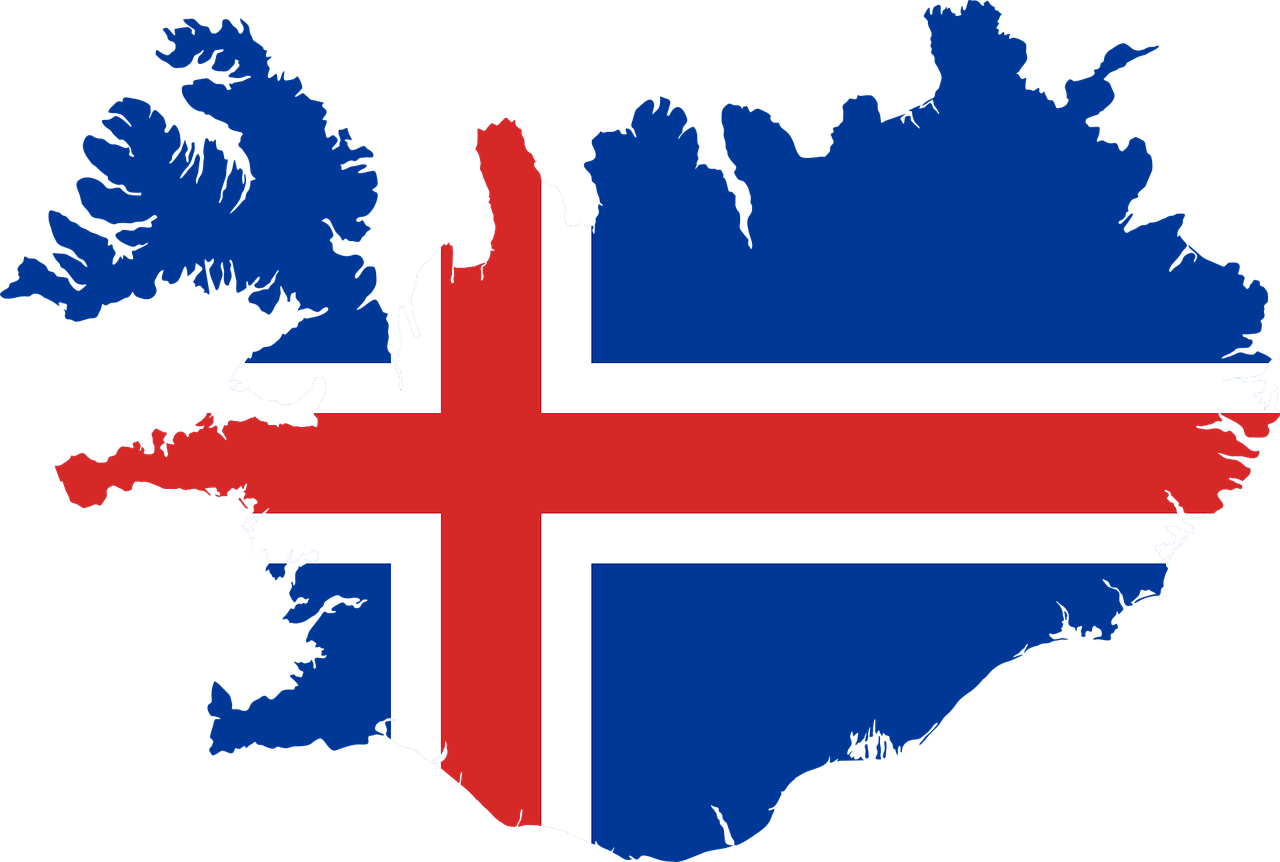 Iceland:

Officially the Republic of Iceland ('Ísland' in its native tongue) is a sovereign country located in the North Atlantic Ocean and politically is part of Europe. It is part of the Schengen territory, but it is not part of the European Union.

Population:

Iceland has 338,500 inhabitants (according to the last census of 2019). The capital of the country is Reykjavík, with 217,000 inhabitants in its metropolitan area. The second largest city is Akureyri, with 20,000 inhabitants. Icelanders are generally of Lutheran and Christian faith.
Geography:
Iceland is located in the north of the Atlantic Ocean, south of the Arctic Circle. Although part of Europe, it is geologically located between the continental plates of Europe and North America. It is the second largest island in Europe, after Great Britain. The island is composed of basalt and petrified lava, with glaciers and lakes occupying more than 14% of the country. Its climate is sub-polar oceanic, with cool and short summers and mild winters.

Iceland Currency:

Iceland crown Code: ISK. Abbreviation: Kr.
PHOTOGRAPHY IN ICELAND:
Do you like photography? Do you want to fill Instagram and Facebook with real photographs, without using any tricks or filters? Stop dreaming and come to Iceland, the most photogenic country in the world. Waterfalls, glaciers, volcanoes, lagoons, beaches ... do I need to say more? In Iceland you can take pictures of incredible landscapes in every corner of the island. Of course, we also recommend that you do not obsess over the photos and enjoy the views with your own eyes.
Important note: As Iceland is not part of the EU, it is recommended to take out travel insurance before arriving on the island. Note that the laws in Iceland may be different than in the rest of Europe. These laws must be taken into account and respected, such as those relating to nature and local regulations. ID712
ICELAND, THE ISLAND OF ICE AND FIRE