MOTORHOME - 3 PEOPLE

Luxury motorhome for 3 people in Iceland
Looking for a way to travel around Iceland? With one of our mid-sized motorhomes you and a few friends can travel and sleep in comfort and without wasting time along the way. We present you the best alternative to enjoy the island. Book a motorhome and you can share expenses and live an adventure in the middle of nature.
This motorhome is perfect for groups or small families of 3 people. It has an equipped kitchen, bathroom and hot shower. The rental office is a short 5-minute drive from the airport and the airport transfer is free of charge. Free pick-up from the Keflavík intarnational airport and basic insurance is already included in every rental.
BOOK YOUR MOTORHOME - ONLINE AVAILABILITY AND RESERVATIONS HERE
MOTORHOME FOR 3 PEOPLE RENTAL
Motorhome description: The compact motorhomes for 3 people are manual transmission with a diesel engine, which gets about 10L / 100 km and a tank capacity of 90 L. There is a fresh water tank with the capacity for 95 L. The motorhome comes with a FM-AM radio, CD player, AC, airbags, a heater, leveling blocks and electricity sockets. Each caravan is equipped with a gas stove, a refrigerator, water hoses, a fly screen, sun curtains, a tyre repair kit.
Discounts: We guarantee discounts for the duration and number of motorhomes. For reservations made and paid before end of March 31, which include more than one vehicle, and for a duration of more than 7 days, we offer a 100 EUR discount to our clients, dependant on the season.
| | |
| --- | --- |
| Chassis | Ford/Fiat/Citroen |
| Engine | Turbo diesel |
| Transmission | Manual |
| FM-AM Radio with CD Player | Yes |
| Front air conditioning / Air bags | Yes |
| Diesel tank capacity | 90 litres |
| Average consumption | 10 l / 100 km |
| Fresh water tank capacity | 100 litres |
| Waste water tank capacity | 96 litres |
| Exterior length | 5.9-7.6 meters |
| Exterior width | 2.3-2.4 meters |
| Exterior height | 2.5-3.2 meters |
| Weight | 2826 kilograms |
| Sleeping accommodations | 3 |
| Middle bed (Width x Length) | 80-90 x 190 -200 centimeters |
| Rear bed (Width x Length) | 110 - 140 x 190 -200 centimeters |
| Storage compartment | 80 x 40 centimeters |
| KITCHEN | |
| Cubic measure of refrigerator | Min 80 litres |
| Stove top | 3 burners |
| Full kitchenware | Yes |
| EQUIPMENT | |
| Wash & shower room | Yes |
| Heater | Yes |
| Leveling blocks | Yes |
| 230 V / 12 V electricity sockets | Yes |
| Mosquito nets & sun curtains | Yes |
| Tire repair kit | Yes |
| Fire extinguisher | Yes |
| First aid kit | Yes |
| Three-point seat belts | Yes |
| Electrical cable | Yes |
| Adapter | Yes |
WHAT IS INCLUDED IN THE MOTORHOME RENTAL?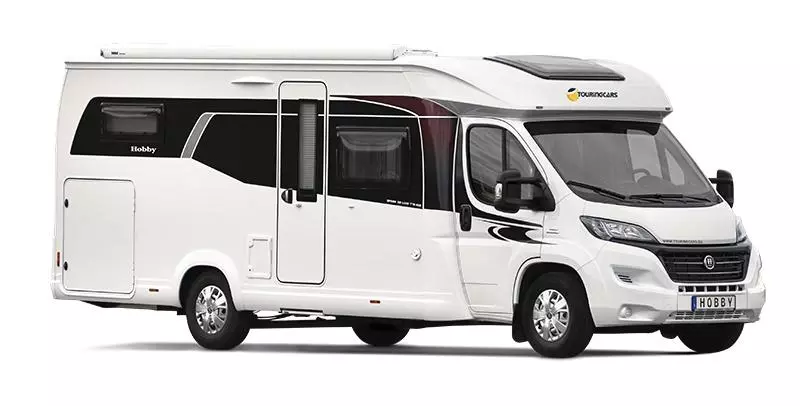 Price includes: Small motorhome, local taxes, unlimited mileage, basic insurance mandatory CDW with the limit of 2,800 EUR, motorhome equipment with the equipped kitchen, technical test, transfer from the airport, explanation of how the vehicle works (in English, also available via video), pick-up and return between 08:00 - 18:00, 7 days a week, information package with guide and maps (in English), instruction book in several languages, luggage storage..
Price doesn't include: Optional insurance, gasoline / diesel (the vehicle is delivered with a full tank and must be returned the same), gas (the gas bottles are delivered full and the customer has to return them full). Extras such as blankets and sheets (check the list of possible extras to hire).
Pickups and office: The office is located in Keflavík (transfer from the airport is included in the price). Office hours are from 8:00 a.m. to 6:00 p.m. every day. Out of the office hours, the motorhome can be collected or returned with a supplement of EUR 200.
WHAT OPTIONAL SERVICES ARE OFFERED?
Additional insurance Included in the rental of this compact motorhome is the standard insurance CDW Basic with a deductible of EUR 2,800. It is essential to have a VISA / MASTERCARD credit card for the rental deposit. Other cards will not be accepted by the provider. If the client wishes to hire optional insurance, these insurances are offered when picking up the vehicle: CDW Plus for EUR 25 per day, which reduces the deposit to EUR 1,200 per accident, CDW Premium insurance for EUR 39 per day, which reduces the deposit to EUR 600 per accident, or the Total Insurance for EUR 79 / day, which reduces the deposit to € 0 but is not fully comprehensive. Another optional insurance offered is the windshield and tyre insurance for EUR 19 / day and covers damages caused to the windscreens or tyres damage.
Extra services Barbecue equipment EUR 39 per rental. Electric coffee machine: EUR 19 per rental. Children's booster seat: EUR 19 per rental. Gas bottle: 95 EUR per rental. Camping table and chairs: EUR 4 per day per person. Inverter (12-230 volts): EUR 4 per rental day. WC chemical products: 22 EUR per rental. Bed set (blanket, sheets, pillow, towels): EUR 51 per person. All optional services will be paid directly at the rental office when picking up the motorhome in Iceland.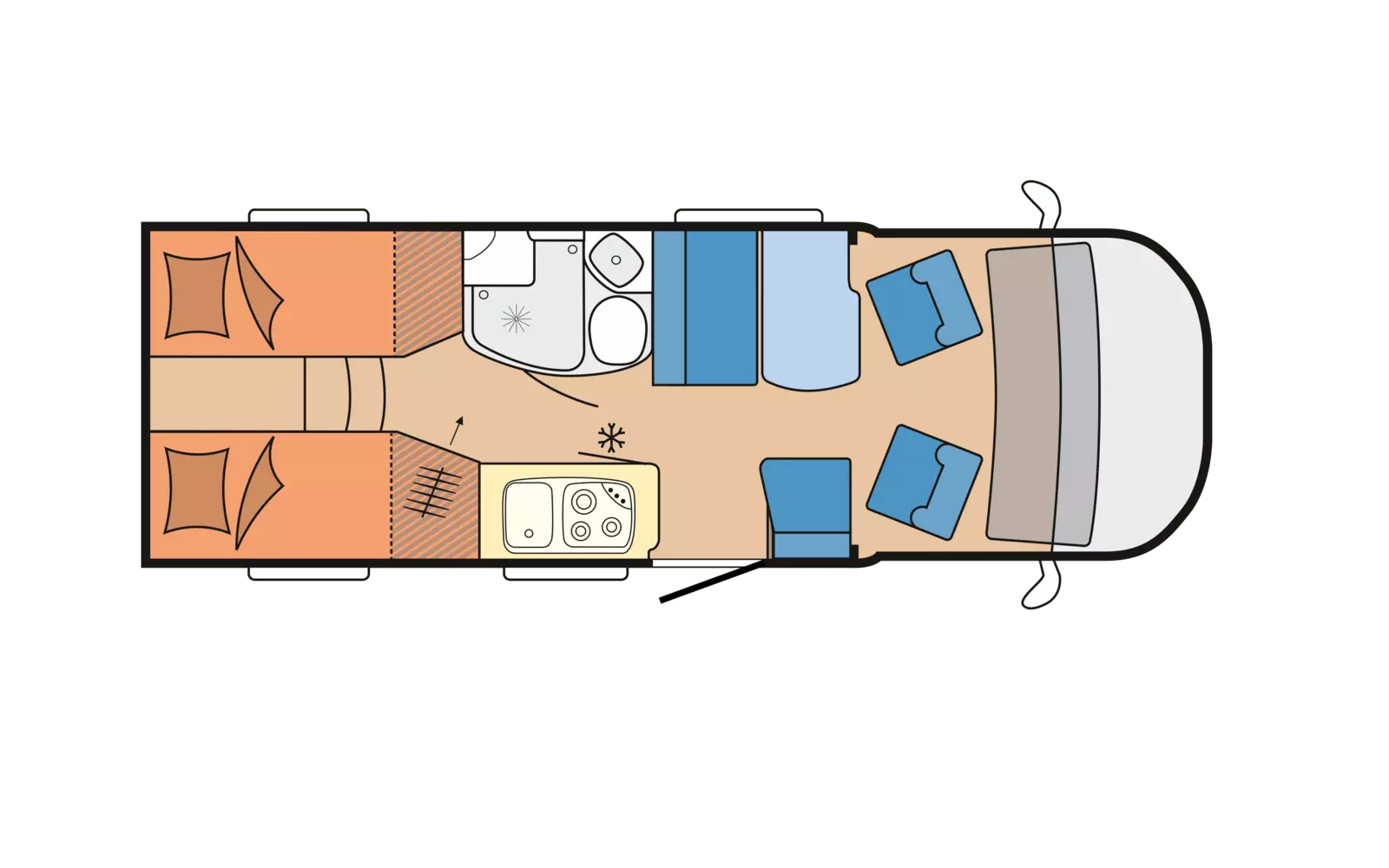 MOTORHOME RESERVATION FAQ
Where I will collect my reserved motorhome?
Our assistant will be waiting for you at the Keflavík airport with your name written on a sign in the arrival hall. He will pick you up with all luggage and take you to the rental station (5 minutes driving) where you collect your motorhome. Of course you can reach our rental station in the Keflavík area by your own if you prefer this option. After returning the motorhome to the rental station our assistant will take you back to the Keflavík airport. Both transfers are included in the rental price.
I have no experience with motorhomes, where I will learn how to drive and operate a motorhome and it's accessories?
No worries, at the central station during the pick-up procedure we will show you a 20-minute video about driving and maintaining all equipment. Then we will show you step by step each detail in your motorhome. (the best way for getting your hands-on experience) You have a manual in the motorhome and also a 24-hour help-line with an assistance.
Is it difficult to drive a motorhome in Iceland?
No, it is not. We recommend you to be more careful while driving as motorhomes are bigger than standard cars. Normally after 20 minutes you have gotten accustomed to the experience and how the motorhome behaves in curves and crosses. We have never had a customer who couldn't manage to drive their motorhome so far. No stress :) You will make quickly learn and go on to enjoy an unforgettable trip.
Why travel by motorhome in Iceland?
Iceland is a perfect country for travelling by motorhome to witness unique nature and beautiful landscapes that you can explore on your own, with complete and total freedom and without the limits or obligations of other forms of travel. Imagine the feeling of waking up each day in a different part of paradise and stepping out into a fascinating new world (there are about 170 registered campsites in Iceland!). Reserve a rental motorhome and create your own trip on the go, respecting of course the nature and laws of Iceland.
Do you want to spend your vacation differently than you normally do?
In Iceland you will discover another world. You will see beautiful nature, landscapes full of water, craters, volcanoes, waterfalls, geysers, nature baths and much more. You will enjoy fresh and tasty cuisine. Book a motorhome rental and traverse Iceland in 7 days or more. Seven days is the minimum time recommended to enjoy a rejuvenating vacation without stress. With a week (or more) you will have enough time to see the most famous places in Iceland during your travel. Rent a motorhome with our company and we will prepare your customized and detailed itinerary.
What does your motorhome rental in Iceland include?
All our motorhome rentals include unlimited mileage, CDW insurance, local VAT, a fully equipped kitchen and final cleaning. Motorhomes also include free transfer from Keflavík International Airport.
Where can I park and leave overnight our motorhome in Iceland?
The campsites in Iceland are located in more than 120 incredible places around the island, so you will not have any problems finding a place to park the motorhome. There are many differences between each of the campsites (from those that offer all possible comforts to the the most basic ones, which are located in the middle of nowhere and those that do not even carry a charge). You can read more information about the available campsites at: http://www.nat.is/camping/camping_sites.htm and http://www.campingcard.is/
What are the advantages of booking a motorhome with ISLANDICA?
ISLANDICA s.r.o. (www.viajesislandia.com) have been successfully working in Iceland since 1996. We continuously compare our prices with competitors to have the best value/price deals on motorhome rentals in Iceland. We only offer models with guaranteed quality so that the customer is always satisfied. The rental of motorhomes in Iceland can be difficult during the summer months as the vehicles quickly sell out. That is why we recommend making reservations in advance. In addition, with some motorhomes you can get discounts for early bookings, so book early! A 15% deposit of the total price is required to confirm a reservation. We provide a tailored itinerary for each motorhome rental in order to enjoy Iceland in a best way for the travellers. ISLANDICA also provides assistance during your journey.
What shall I do if I have any issue or if I need assistance?
You can contact ISLANDICA travel agency by the direct assistance line (email or phone).
Important note: If the motorhome you wish to reserve on Iceland does not have availability for the dates you want, contact us by email at This email address is being protected from spambots. You need JavaScript enabled to view it. and one of our agents will inform you of the availability of motorhomes existing at the time of booking. ID695.
LUXURY MOTORHOME IN ICELAND FOR 3 PASSENGERS