GLACIER EXPLORER FROM SKAFTAFELL
GLACIER VATNAJOKULL EXPLORER FROM SKAFTAFELL
With crampons on foot and ice ax in hand, get intimate with the ancient ice formations of Europe's largest glacier! Our world-renowned "Glacier Explorer" in-depth glacier adventure takes you to Falljökull (Icelandic for 'falling glacier'), one of the most impressive outlet glaciers of the Vatnajökull ice cap.
With your small group, we will take an inspiring walk along a winding path through the dramatically changing landscape carved out by the glacier on Iceland. Arriving at the tongue of the glacier, we will gear up with crampons, an ice ax and a helmet. With your experienced and certified guide leading the way, you will soon be exploring an impressive terrain, walking through a wonderland of ice formations and brilliant blue colors.
BOOK YOUR GLACIER EXPLORER TOUR - CHOOSE YOUR PREFERRED DATE:
Loading...
Vatnajökull Glacier Explorer from Skaftafell itinerary
The excursion for the Glacier Explorer tour to Falljökull starts from Skaftafell booking center (gray house with the turf roof). (Skaftafell is over 5 hours from Reykjavik and over 2 hours from Vik, so please plan accordingly.)

Once you arrive, we'll arrange all of the gear for you and the small group of glacier explorers. From the start point, we'll take a short 15-minute drive to the start of the actual hike at the foot of Falljökull glacier. Along the way, you'll be able to enjoy the view out your window of Vatnajökull Glacier, the largest in all of Europe.

Once you're out of the bus, we'll start a hike along the glacier path, seeing how this magnificent creature carved the land as it passed over it.

When you have reached the tongue of the glacier, it will be time to become a true explorer, by strapping on the crampons and helmet and grabbing an ice ax to set out on the glacier. The time on the glacier will be spent seeing the many sides to the icy structure. It will appear to be a labyrinth of ice as you cross the vast expanse of ice and snow.

You'll be shocked (in a good way) to see that glaciers do not have a smooth surface but instead are cut with small rivers, dips, small mounds, crevices and ice formations. The trained, experienced and certified guide will be able to point out and explain the life of a glacier, from how it was created, to how it grows and how currently it is waning away due to climate change.

Surely this will be one of the highlights of your time in Iceland and we're glad that you've chosen to come share it with us!
Remember that it is important to come well dressed to enjoy this great visual spectacle without problems.
GLACIER EXPLORER FROM SKAFTAFELL DETAILS:
Price includes:
Guiding, all necessary glacier gear, and transportation to/from Skaftafell, local VAT.
Reservations:
It is recommended to book the place several days in advance on the Internet to ensure availability.
Duration:
About 5.5 hours
Available:
All year.
Difficulty:
Moderate (3/5).
Minimum age:
14 years.
Group Size:
12 participants / guide.
Departures:
Skaftafell booking center (gray house with the turf roof).
Information about the Glacier explorer on Iceland
What do I need to bring? No matter what time of year you decide to travel to Iceland, it is always important to bring a good waterproof jacket, trekking clothes (waterproof pants like Gore-tex), good trekking shoes, gloves, light hat, sunglasses, sunscreen, camera and water bottle. For this excursion don't forget: - Waterproof jacket and pants (We do have rental clothing available), - Hiking boots (Available for rent, 1000 isk. We advise against runners or any type of shoe that comes up below the ankle bone as the straps on the crampons can get a bit painful during the walk)(Climbing boots are included on the ice climbing tour), -Light sweater, wool or fleece, - Light synthetic or quick dry pants (Try and stay clear of jeans on the longer trips as they get wet & cold quick and dry slow), - Thin Gloves, - Hat, - Small Backpack (Can be handy to carry camera, rain gear and all extras), - Sunglasses and sun protection (It can get quite bright on the ice with the reflection), - Food and drinks (Lunch is not provided on this trip).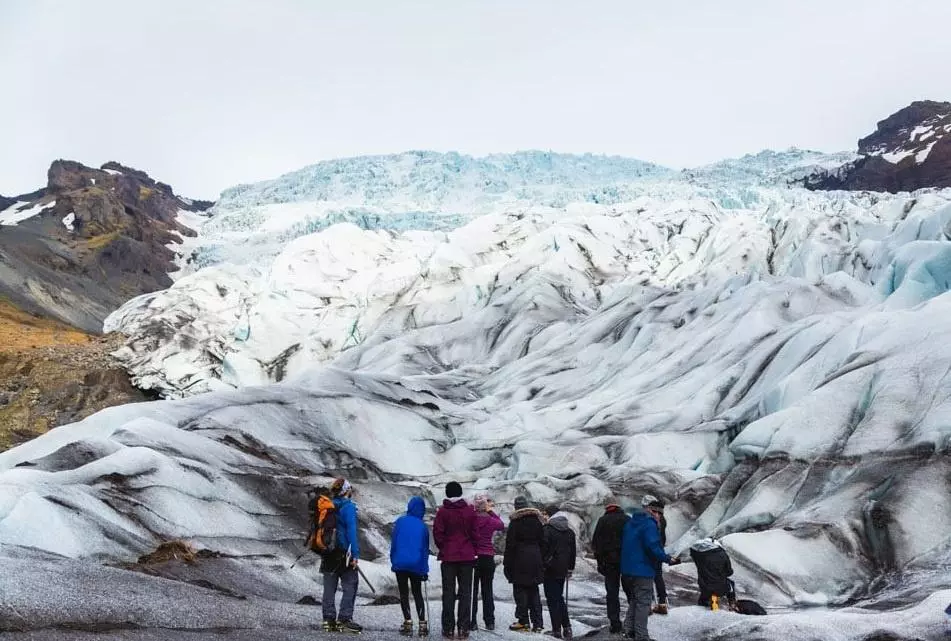 Important note:All activities in the Icelandic nature are carried out under the own responsibility of the clients. ISLANDICA s.r.o. is not responsible for any accidents that may occur during the activities or due to the actions of the participants. The people who participate in these outings are accepting these conditions when booking the excursion. You may be required to sign an exemption prior to the completion of the exemption, stating that you are aware that any outdoor activity carries an inherent risk. Code GG-GE. ID 701
Falljökull Glacier Explorer from Skaftafell