6-DAY FULL CIRCLE GUIDED TOUR OF ICELAND

Join this 6-day guided tour of the full circle of Iceland in small groups with departures all year
Looking to stray further from Reykjavík than just a day or two and see all of Iceland? You can with this 6-day full circle guided tour which follows the famous "Ring Road" or Highway 1 in Iceland, showing you the very best: the Golden Circle, Mývatn Lake, impressive waterfalls on the South Coast, Vatnajökull Glacier, Jökulsárlón Glacier Lagoon and so much more. During your 6-day trip, you will be accompanied by an amazing English speaking guide who will enchant you with the historical, geological and cultural past of Iceland and its people. You will spend nights in beautiful accommodation (with private bath and choice of single or double room) and breakfast included. Excursions include walking on a glacier, whale watching, or bathing in a hot spring.
Spend a week being amazed, don't miss out on this opportunity.
RESERVE YOUR 6-DAY FULL CIRCLE TOUR OF ICELAND HERE:
Loading...
ITINERARY FOR THE FULL CIRCLE GUIDED TOUR OF ICELAND IN 6 DAYS
ITINERARY OVERVIEW:

DAY 1: GOLDEN CIRCLE AND SOUTH COAST OF ICELAND
DAY 2: VATNAJÖKULL GLACIER AND JÖKULSÁRLÓN GLACIER LAGOON
DAY 3: EAST FJORDS
DAY 4: NORTH OF ICELAND
DAY 5: WHALE WATCHING, SIGLUFJÖRDUR, TRÖLLASKAGI AND LAUGARBAKKI
DAY 6: WEST OF ICELAND

DAY 1: GOLDEN CIRCLE AND SOUTH COAST OF ICELAND
Let's go! This 6-day tour starts at 8:00 a.m. in Reykjavík when you will be picked up from your hotel or the nearest tourist bus stop as indicated on your voucher.
From here you and your new group of traveling companions will set out for one of the most popular routes in Iceland, the Golden Circle.
1st Stop: Þingvellir National Park, a UNESCO World Heritage Site. Here you can witness the divide of the tectonic plates that separate Eurasia from North America. This is also the place that the first, and longest running parliment in the world was founded.
2nd Stop: the Great Geysir and its little brother Strokkur. While the Great Geysir went on to name all other erupting hot springs, Strokkur is the one which is still active and goes off like clockwork every 4-8 minutes up to heights of almost 30 meters or nearly 100 feet! Stand back and wait, it's a sight to behold.
3rd Stop: Gullfoss Waterfall, a magnificent natural specimen with cascades that fall down a series of cliffs before emptying into the Hvitá canyon below.
From here, you will exit the Golden Circle and head south to the coast, passing farmlands, traditional houses and small villages.
4th Stop: Seljalandsfoss Waterfall, know because you can walk behind the thick liquid curtain to the cave that is hidden behind it. Bring waterproof clothing so that you can enjoy the full effect of walking behind a waterfall, it's something you'll never forget.
5th Stop: Skógafoss Waterfall, measuring 60 meters of free flowing water, you can admire the views from the foot of the falls, or from above by following the steep but short staircase to the top.
6th Stop: Vík, a small village at the southern tip of Iceland where you will spend the night in beautiful accommodation
7th Stop: Check-in at Hotel Dyrholaey (or similar). For those visiting between September and April, you'll have the added benefit of being able to spend the night searching the night sky for the natural phenomenon which is world known and brings people from all over to Iceland: the auroras borealis or the Northern Lights.
DAY 2: VATNAJÖKULL GLACIER AND JÖKULSÁRLÓN GLACIER LAGOON
Enjoy the delicious breakfast buffet in your hotel.
1st Stop: Reynisfjara Beach, where you can dip your toes in the black sand, gaze in amazement at the incredible basalt columns and the iconic rocky formations off the coast of the beach.
2nd Stop: Skaftafell and Vatnajökull National Park where in the summer you will strap on crampons in order to enjoy the 3 hour hike across the Vatnajökull Glacier, Europe's largest ice cap, or in the winter (November - March) you'll get to explore a natural ice cave.
3rd Stop: Jökulsárlón Glacier Lagoon, famous for the in numerous icebergs that float atop the lake, offering a mesmerizing show as they head to the sea.
4th Stop: Diamond Beach, where some of these icebergs run ashore and contrast so beautifully with the black sand that they shine and glitter like diamonds. Animal lovers and natural loves too of course, should keep an eye open for the various birds that live and next in this area as well as the seals that frolic and play not far from shore.
5th Stop: Check-in at Hotel Höfn-Inn (or similar), in the town of the same name, a well know location as the capital of lobster in Iceland.
DAY 3: EAST FJORDS
Enjoy the delicious breakfast buffet in your hotel.
Today you'll head east, passing along a beautiful stretch of the Ring Road and the Hvalnes Peninsula, an extremely remote and yet beautiful peninsula. You will see the aftermath of landslides in Þvottárskriður, between Lóns and Álftafjarðar.
1st Stop: Djúpivogur, a small fishing village which is home to a beautiful open air sculpture stretching along the coastline and shine brightly in the sun. Named Eggin í Gleðivík, meaning "The Merry Bay eggs".
2nd Stop: the Hengifoss Waterfall, which we will reach after a 3-hour walk through some gorgeous terrain. Along the way you will also see the Litlanesfoss Waterfall, which is quite impressive and known for the giant hexagon-shaped basalt columns which surround the falls. You will also be able to see a beautiful ravine, which due to a volcanic eruption eons ago, has left a rainbow of colors across the walls of the gorge. Upon arrival to our destination, you'll stretch your neck back to take in Hengifoss, which is the second highest waterfall in Iceland at 128 meters or 420 feet.
3rd Stop: Egilsstaðirs, the largest settlement (at 2,000 inhabitants) in the east of Iceland, located on the banks of the Lagarfljót river.
4th Stop: Check-in at Hotel Valaskjalf (or similar). This night you'll have your second chance to go with your group and guide to star gaze and look for the Northern Lights (winter months only).
DAY 4: NORTH OF ICELAND
Enjoy the delicious breakfast buffet in your hotel.
The morning will start by passing through the farming land of Mödrudalur.
1st Stop: Dettifoss Waterfall, the most powerfall waterfall in Europe. While not as tall as the previous falls, Dettifoss measures only 44 meters or 144 feet high, but 100 meters or 330 feet wide which gives it such power.
2nd Stop: Mývatn Lake y surrounding areas, where much of the film for the Game of Thrones took place. In this relatively small zone, you'll see so many natural wonders, such as the smoking lunar-like landscape in the geothermal zone of Námaskarð, the Hverfjall Crater and the incredibly dramatic rock formation of Dimmuborgir.
3rd Stop: Mývatn natural hot springs, to relax a bit after an exciting morning. These geothermal heated pools are rich with minerals and well worth a visit (entrance is not included and must be reserved beforehand when making a booking).
4th Stop: Godafoss Waterfall, otherwise known as the waterfall of the gods. Listen as your guide explains the fascinating tales that surround this waterfall.
5th Stop: Eyjafjörður, one of the longest fjords in Iceland, is surrounded by hills and mountains as well as valleys. There are many geothermal vents in the area as well, so you might see steam rising from the earth. Hence Iceland's nickname, "the island of ice and fire".
6th Stop: Check-in at Hotel Dalvík or similar.
DAY 5: WHALE WATCHING, SIGLUFJÖRDUR, TRÖLLASKAGI AND LAUGARBAKKI
Enjoy the delicious breakfast buffet in your hotel.
1st Stop: Akureyri, the enchanting capital of the north is a famous port and fishing center for the country.
2nd Stop: Dalvík, a quaint fishing village, where we will get to experience a whale watching tour to see the most magnificent mammals in the ocean. With some luck, we will also be able to see how fishing is done in these parts and even get to taste the freshest catch of the day. The initial whale-watching tour is included, but for those brave enough, you can add as an extra addition to the trip, an excursion in a fast boat which will allow the passengers to go quicker and get closer to the whales. As the whales are free creatures, there is no guarantee that they will be seen, however there is a 98% chance of seeing them throughout the year.
3rd Stop: Siglufjörður, another charming village of fishermen. There you will discover Tröllaskagi , the peninsula of the Trolls. This is also where you will witness the best views of the coast and the ocean and the ski areas in Iceland. Here you can really get a good understanding of how life was for the Icelandic people in antiquity.
4th Stop: Check-in at Hotel Laugarbakkit (or similar). Once again, for those visiting in the winter months, you will have another (and final) chance to spy the Northern Lights in all of their splendor.
DAY 6: WEST OF ICELAND
Enjoy the delicious breakfast buffet in your hotel.
Start the first leg of the journey this morning contemplating the previous 5 days and the wonderful places your eyes have laid sight on.
1st Stop: Grábrók Volcanic Crater, where you can enjoy an easy hike along a wooden path up and across the top of the crater, giving you a feeling of awe and amazement.
2nd Stop: Deildartunguhver, where you will discover the source of the most powerful hot spring in all of Europe. The water leaving the springs has temperatures up to 97º C or 206º F. Take care!
3rd Stop: Hraunfossar and Barnafoss Waterfalls, which both receive their water from the Langjokull Glacier. What sets these waterfalls apart from some of the ones you've already seen, is that these are a collection of hundreds of little falls that together create a chandelier effect, which when seen from afar is enchanting and mesmerizing.
4th Stop: Reykholt, a small town in western Iceland. It was once home to Snorri Sturluson, who was the famous Icelandic author of many traditional Icelandic fables and tales.
5th Stop: a pass by Hvalfjörður Fjord which translates to Whale Fjord does not currently host whales, and it's naming is uncertain and carries with it many theories, all of which your guide will paint a picture of to showcase the rich history that is on Iceland.
6th Stop: Reykjavík. Back to the capital of Iceland, with an expected arrival time of about 17:00-18:00 (5-6 p.m.).
DETAILS OF THE FULL CIRCLE TRIP AROUND ICELAND IN 6 DAYS
Duration: 6 DAYS / 5 NIGHTS.
Difficulty of the trip: Easy (1 out of 5).
Minimum age: 8 years.
Places visited:: Golden Circle, Vatnajökull Glacier, Jökulsárlón Glacier Lagoon, East Fjords, Mývatn Lake and surroundings, north of Iceland, Akureyi, west of Iceland, Reykholt.
Included in the price: Pickup in Reykjavík; transportation for the full tour by minibus with WIFI on board, an English speaking tour guide; a walk on a glacier with crampons, a certified English-speaking guide, and any other necessary equipment; whale watching in Dalvík; a walk in Eggilstadir; 5 nights accommodation in a double room with private bath and buffet breakfast each morning; local taxes.
Reservations: It is recommended that you reserve your place in this amazing trip as soon as possible, as these small group tours often fill up quickly.
Departures: There are regular departures all throughout the year. Please consult the reservation panel/calendar above to verify the dates.
More information about the small group, full circle of Iceland
What do I need to bring? Iceland is a beautiful country, however the weather can be unexpected, at any time of the year, although most especially in winter (late September through April). Therefore all visitors are encouraged to bring clothing worthy of cold and potential wet weather conditions. This includes a heavy winter jacket and waterproof pants, clothing suitable for hiking on a mountain, proper shoes for hiking, gloves, a warm hat, sunglasses, sunscreen/sunblock cream with UV protection, a camera, a bottle of water and a backpack.
***It is especially important to have hiking shoes when you take the glacier hike, as crampons are ONLY able to be attached to hiking boots and NOT to any other type of shoe, loafer or sneaker.
Important note: Between November and March, instead of walking above the Vatnajökull Glacier, the group will instead get to experience a natural ice cave, below the surface. This is an utterly magical experience that will not soon be forgotten. (all excursions are subject to weather and meteorological conditions).
Important note: Between September and April, you will have the wonderful experience in which you will be able to spend your nights looking for the Northern Lights, as the winter months, as well as the locations of the accommodations are ideal for seeing the auroras borealis (the weather conditions always play a role, and it is not guaranteed that they will be seen).
Important note: If you are traveling alone or in groups of an uneven number (i.e. 3, 5 7), please be sure to add the supplement of an individual room if you do not wish to share with someone not in your group. If you do not reserve a single room, you will be placed with another passenger (of the same sex) in a shared, double room.
.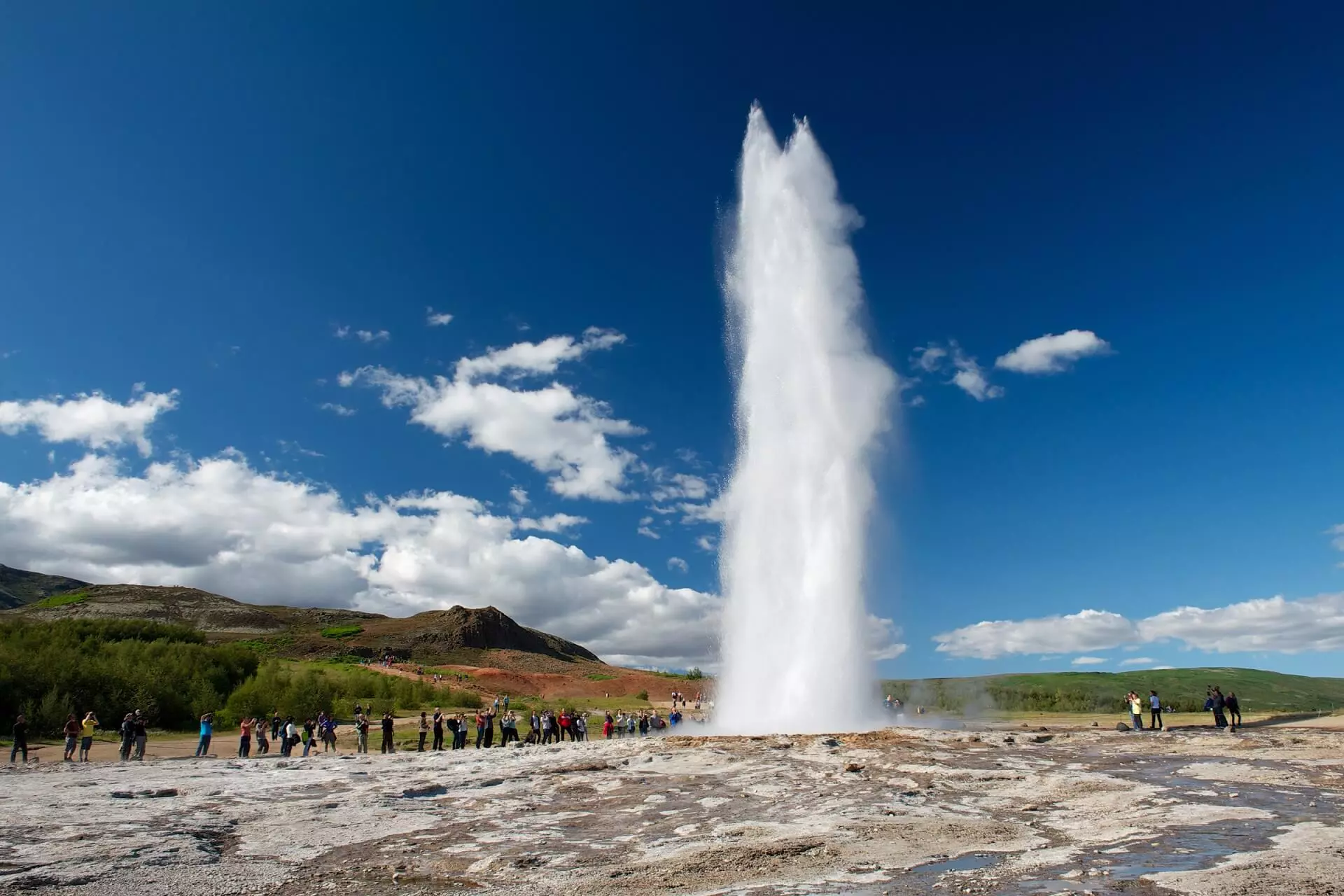 Important note: All of the activities on the glacier are completed under the responsibility of each client and guest. Neither the provider of the tour, nor ISLANDICA s.r.o. will or can be held responsible in the unlikely event of an accident that could potentially happen during the activities or by an action taken by the guest him/herself. All individuals who partake in these activities accept these conditions. It is possible that there will be additional signature requirements before completing certain activities, declaring that he/she is conscience of these activities that carry with them certain risks. 6-DAY FULL CIRCLE OF ICELAND. Code AA-6D, ID766.