Complete Exclusive Circuit in Iceland with Auroras - 8 Days / 7 Nights

With more than 20 years of experience in tourism on Iceland, we have created the best itinerary to see the best Icelandic natural sights in just 8 days. And to top it off, early September is one of the best times of year to visit Iceland because of the weather, the daylight hours and its the beginning of the Northern Lights season. So, stop dreaming and come with us.
We present a complete exclusive circuit package tour for 8 days (1 more than other tours), 7 nights in beautiful hotels in beautiful locations, 7 buffet breakfast meals, 6 delicious dinners (including the farewell buffet dinner in Reykjavík), all transportation while in Iceland, an experienced guide, a complete program and entrances to unique tourist attractions on Iceland.
Come enjoy geysers, glacier lagoon, breathtaking waterfalls, northern lights, geothermal waters, volcanoes, historical sites and much more. Coming in the summer? Check out this deal.
RESERVE THIS 8-DAY COMPLETE EXCLUSIVE HOLIDAY PACKAGE WITH AURORAS IN ICELAND HERE:
Loading...
ITINERARY FOR COMPLETE EXCLUSIVE 8-DAY ICELAND CIRCUIT WITH AURORAS
Below is the complete schedule for this amazing, once in a lifetime experience. But as a reminder, while the stops are our destinations, the journey itself is just as beautiful to behold. So don't forget to enjoy the ride as well.
We also have programmed stops along the way for snacks, lunches and restroom facilities to ensure your complete comfort. Many of the lunch stops we make are selected because they offer gorgeous views. Each guest CAN decide whether to have a quick lunch and do some exploring or enjoy the break and take their time with a leisurely lunch. We'll let you decide :)
The cuisine in Iceland has received international acclaim in recent years and you will surely not be disappointed. Following the first night in Reykjavík (where we suggest you partake in the rich culinary culture of the capital city), we will share dinner together while on the road. You and your travel companions will enjoy an extraordinary 2-course meal: starting with a salad or a soup, followed by an superbly prepared main dish, together with the best water you've ever had-Icelandic glacier water, and topped off with a cup of hot coffee or tea.
DAY 1: ARRIVAL TO ICELAND - KEFLAVÍK - REYKJAVÍK
DAY 2: THE GOLDEN CIRCLE: ÞINGVELLIR - GEYSIR -GULLFOSS - KERIÐ CRATER
DAY 3: SOUTH COAST - GLACIERS - WATERFALLS - BEACHES - NORTHERN LIGHTS
DAY 4: SKAFTAFELL NATIONAL PARK - VATNAJOKULL GLACIER - ICEBERG LAGOON - EAST FJORDS
DAY 5: DETTIFOSS - KRAFLA VOLCANO - VÍTI CRATER - NÁMASKARD - MÝVATN LAKE - NORTHERN LIGHTS
DAY 6: SKÚTUSTAÐIR - DIMMUBORGIR - HÚSAVÍK - GODAFOSS - AKUREYRI
DAY 7: GLAUMBAER - HRAUNFOSSAR - REYKHOLT - REYKJAVÍK
DAY 8: REYKJAVÍK, THE CAPITAL, AURORA SHOW
DAY 1: WELCOME TO ICELAND - KEFLAVÍK - REYKJAVÍK
Arrive to Keflavík International Airport (servicing Reykjavík).
Transportation to Reykjavík, the capital of Iceland and check-in at your 3-4* hotel in the central area.
If you arrive early and feel rested, you will have the chance to take our guided walking tour of Reykjavik, the capital of Iceland. However, if you are arriving a bit late or if you are tired after your flight, then you will be able to take the same guided tour on your last day.
DAY 2: THE GOLDEN CIRCLE: þINGVELLIR - GEYSIR - KERIÐ CRATER
Buffet breakfast at the hotel.
You'll be picked up from your hotel, meet your guide and get to know your new travel companions as we set off for the Golden Circle and the start to this complete exclusive holiday package.
1st Stop: Þingvellir National Park which is a UNESCO World heritage site due to the fact that is the location of the first Icelandic Parliament, which is also the oldest, longest continually one in the world, founded in 930. You'll get the opportunity to see the divide of the tectonic plates between North America and Eurasia and to commemorate such a momentous occasion, we've prepared a certificate to bestow on you.
2nd Stop: The Great Geysir, not to be confused with 'a geyser' was the first of its kind to receive a name. Coming from the Icelandic word for 'to gush', Europeans continued to name all other hot springs 'geysers' from this time on. While the Great Geysir is for the most part dormant, only 50 meters away, its little brother Strokkur, runs like clockwork and erupts every 6-9 minutes in an incredible burst of hot water. During this spectacle, let's raise our glasses to Geysir and ourselves with a shot of Brennivin, the traditional Icelandic spirit.
3rd Stop: Gullfoss or the Golden Waterfall offers a wonderful view of the sheer power and grace of flowing water as it passes down 3 steps and then 2 drops for a total of 32 meters from top to bottom making it one of the most famous and one of the largest in Iceland.
4th Stop: Kerið Crater Lake is a famous volcanic crater lake, with several steep walls, allowing for a dramatic view upon arriving to the summit. We will walk around the top of the crater as well as descend to the lake before for a closer look. The entrance to the crater is included.
Dinner and accommodation in a hotel in Hveragerði which offers a naturally heated geothermal pool, jacuzzi and sauna.
DAY 3: SOUTHERN COAST - WATERFALLS - BEACHES - AURORAS
Buffet breakfast at the hotel.
1st Stop: Hveragerði Museum gives visitors the chance to experience what it felt like during the 2008 earthquake that shook Iceland. Prepare yourself for this thrilling experience. (admission included)
2nd Stop: Volcanic show. If the earthquake simulator wasn't enough, you'll get to see an interesting local documentary that will help you to imagine the impact of a volcanic eruptions on Iceland.
3rd Stop: Eyjafjallajökull for a short stop to see both a glacier and volcano in one view, hence Iceland's name of the "Land of Ice and Fire". You may remember this difficult to pronounce name from 2010 when its eruption caused such chaos in Europe and the world.
4th Stop: Seljalandsfoss Waterfall, which gives you two great opportunities, one of which is to walk around this magnificent waterfall to the cave behind the water curtain, and the second, which many people do not know about, is to visit the secret and hidden Gljúfrabúi Waterfall or "Secret Waterfall".
5th Stop: Skógafoss Waterfall where you can hike a short but steep staircase to the top and admire the breathtaking view from 60 meters above the pool below.
6th Stop: Dyrhólaey Beaches and the surroundings cliffs which are populated by puffins in the summer months, so September will be just enough time to spot them and anytime of year you'll be able to gaze at the mighty stone arch rising out of the sea.
7th Stop: Vík is a quiant coastal town, with a lovely red-roofed church which gives great views towards the west and where you can walk one of the most beautiful beaches in the world, as it was voted several years ago. There we will treat you to a local specialty, ice cream with chocolate.
Northern Lights: If the visibility and weather allows, you will have the chance to go out and gaze up at the northern skies looking for the lights which dance across it and have caused so many people to flock to Iceland in recent years.
Dinner and accommodation in the area surrounding the great Vatnajökull glacier in a 3-4* hotel.
DAY 4: SKAFTAFELL NATIONAL PARK - VATNAJOKULL GLACIER - ICEBERG LAGOON - EAST FJORDS
Buffet breakfast at the hotel.
1st Stop: Vatnajökull Glacier, the largest ice cap in Europe still leaves us with chills, and not for the weather. Pictures can't describe it, and neither can words, so come find out for yourself.
2nd Stop: Svartifoss Waterfall where we'll stretch our legs with a short hike, suitable for all ages, where you can can watch the water of the falls pour down over black, basalt columns.
3rd Stop: Jökulsárlón Lagoon, is a lagoon full of icebergs which dance around each other creating a beautiful theatrical piece. From there, you can also see Diamond Beach, thus named for the glittery and sparkle that is created when some of the dancing icebergs run ashore on the black sand beach.
4th Stop: the breathtaking East Fjords are a series of winding and snaking inlets which were once valleys of grand glaciers.
5th Stop: A famous fjord village is in Stödvarfjördur, including a stop in Petra´s Home, which showcases how Iceland formed and the many unique geological formation that are found on the island.
Dinner and accommodation in Egilsstaðir in a 3-4* hotel looking down upon a gorgeous lake.
DAY 5: JOKULSÁRGLJÚFUR NATIONAL PARK - DETTIFOSS - ÁSBYRGI - HÚSAVÍK - AURORAS
Buffet breakfast at the hotel.
1st Stop: we'll travel along the ancient scenic Mödrudalur route to a traditional farmhouse where the roofs are covered with a vibrant green grass. This is the best place on the trip to see Arctic foxes, so have a look around. Before we do, we'll enjoy a tasty snack from the farmhouse, compliments of us ;)
2nd Stop: The mighty Dettifoss Waterfall is the strongest falls in Europe. The air is full of mist because of the strength and power of the crashing water.
3rd Stop: Ásbyrgi, also known as the Canyon of the Gods, is a mythical place, full of legends of elves and 'hidden people' who occupy this land still till this day.
4th Stop: Húsavík is a rustic fishing village on the northern coast and the best place to book a whale watching tour as you'll have a 97-99% chance of seeing these giant mammals while out on your excursion. The town is absolutely lovely and deserves a wander. And whether or not you decide to take a whale watching tour, you'll have time to meander around and admire the local buildings, small streets and quaint shops. If you're the seafood type, go for the day's catch at a local restaurant for lunch or check out one of the unique geothermal spas (we always suggest booking the whale watching tours as soon as possible as they can fill up).
Northern Lights: Here's your second chance to view the magnificent natural phenomenon. Go out with our guide and see what Mother Nature can paint on the night's sky.
Dinner and accommodation in the area of Húsavík in a beautiful, country, eco-friendly 3-4* hotel.
DAY 6: MÝVATN LAKE - KRAFLA VOLCANO - GODAFOSS - AKUREYRI
Buffet breakfast at the hotel.
Most of the day will be spent in and around the Mývatn Lake area.
1st Stop: Krafla-Leirhnjúkur Volcano which gives a great view where the 1984 eruption occurred and the aftermath.
2nd Stop: the grand Vítí Crater Lake which presents amazing views of the blue water that has been collecting in the crater since its formation in a 1724 eruption.
3rd Stop: the geothermal zone of Námafjall is a bit out of this world. The earth beneath your feet is so hot that there are pools of boiling mud and you can see hundreds of fumaroles, where steaming hot vapors spew from the ground beneath. We will be able to walk around and among these parts, but we do advise caution! The visual effect is impressive but the geothermal field has to be treated with precaution.
4th Stop: Reykjahlíð for some rest and lunch. This town was once destroyed by lava in the 18th century, all except for the local church which was miraculously saved as the local parish priest and devote followers prayed inside. The approaching lava simply surrounded the church without touching it.
5th Stop: Dimmuborgir, or the Black Fortress, is an enchanting place, best known for the unique black lava fields that span in all directions. The fossilized lava has formed into unique shapes and figures and created caverns as well. There is also a view of Hverfjall Crater that stretches 1 kilometer in diameter!
6th Stop: the Skútustadir pseudocraters are called so because they look like actual craters but as they are not in the actual location of an eruption, they can't claim to be the real thing. The view is spectacular because there is a clash of colors as the bright green grass runs smack up to the edges of the blue lakes within the craters.
7th Stop: the "Waterfall of the gods" or Goðafoss Waterfall resembles a small Niagara Falls as the width is more impressive than the height.
8th Stop: the northern capital of Iceland is Akureyri, also known as the "Pearl of the North" is found at the base of the Eyjafjörður Fjord. The charming city has an impressive backdrop of snow-capped mountains. The central location of this night's hotel allows for you and your travel companions to go out and meet some locals in the heart of Akureyri. Nothing is a far walk in this town.
Dinner and accommodation in the center of Akureyri in a 3* hotel.
DAY 7: GLAUMBAER - HRAUNFOSSAR - REYKHOLT - REYKJAVÍK
Buffet breakfast at the hotel.
1st Stop: Glaumbær, a small historical town. Here the properly named 'turf cottages' are covered in bright green grass. As your entrance to the Glaumbær Folkloric Museum is included, we highly recommend having a peek inside to see what life was like for ancient Icelandic people.
2nd Stop: Lunch break at a famous gas station. Despite the perception, this gas station is well known for wonderful lunches and while you're eating, you'll get the chance to learn of local life in this area.
3rd Stop: Deildartunguhver hot springs, is less known but no less impressive than the Geyser geothermal zone. It is a true hidden gem that competes with Geyser in the strength and temperature of the erupting water.
4th Stop: Hraunfossar Waterfall offers a different type of falls. Here the water is a bit more lazy. For nearly a kilometer, the water flows and runs over lava fields and gives a sense of tranquility and calm to the air.
5th Stop: Reykholt was at one time the home to Snori Sturluson, a medieval writer who was one of the most famous during his time and whose contributions to the Norse language and mythology are still aiding scholars today. This enchanting town also once held the most important school in Iceland. There is an impressive view of Langjökull Glacier which is the second largest ice cap in Iceland.
6th Stop: (or more like a pass through) is the tunnel of Hvalfjörður. Both locals and tourists have been enjoying this army construction for the last few decades as it shortened the commute time to Reykjavík by nearly an hour. Before entering the capital, we can enjoy a view of Esja Mountain. As the journey on the bus is coming to an end, we always suggest sitting back and contemplating all of the utterly amazing places you have visited since arriving in Iceland.
7th Stop: What better way to say good-bye to Iceland and all of your new travel companions than with a farewell dinner on your final night in Reykjavík at the best seafood, fish and meat restaurant in town. It's a delicious-all-you-can-eat buffet that lets you taste all of the local delicacies. Icelandic glacier water, coffee tea and dessert are included.
Night and accommodation in the center of Reykjavík at a 3* hotel in the center next to the amazing Hallgrímskirkja Church.
DAY 8: REYKJAVÍK - GUIDED TOUR - PERLAN MUSEUM
Buffet breakfast at the hotel.
For those who didn't get to participate the first day, the guided walking tour of the capital city, Reykjavík, is available again.
Once the guided tour is over (or if you took it once already) you'll have time to explore the city streets, the shops, cafes, seaport and docks.
You may also choose to buy a ticket for the Hop-on-hop-off bus as well. This comes with an audio guide in 10 languages and entrance to the Perlan Museum, where you can see the best views of the city. Entrance to Perlan, its ice cave and fascinating Aurora Show is included.
Or if you are looking for a more luxurious and relaxing way to end the trip, why not head to Iceland's most popular destination, the Blue Lagoon? It's the perfect treat for you and your loved ones. These geothermal heated waters will soothe your muscles and rejuvenate your skin. We will be happy to book you a ticket (from Comfort to Luxury) and adapt your transfers to ensure you arrive on time to the airport for your flight.
FINAL STOP: KEF. While we're sure you'll be sad to go, we also know you'll be so happy you came. And you can always return.
Till next time :)
Details of this 8-Day Complete Exclusive Holiday Package in Iceland with Auroras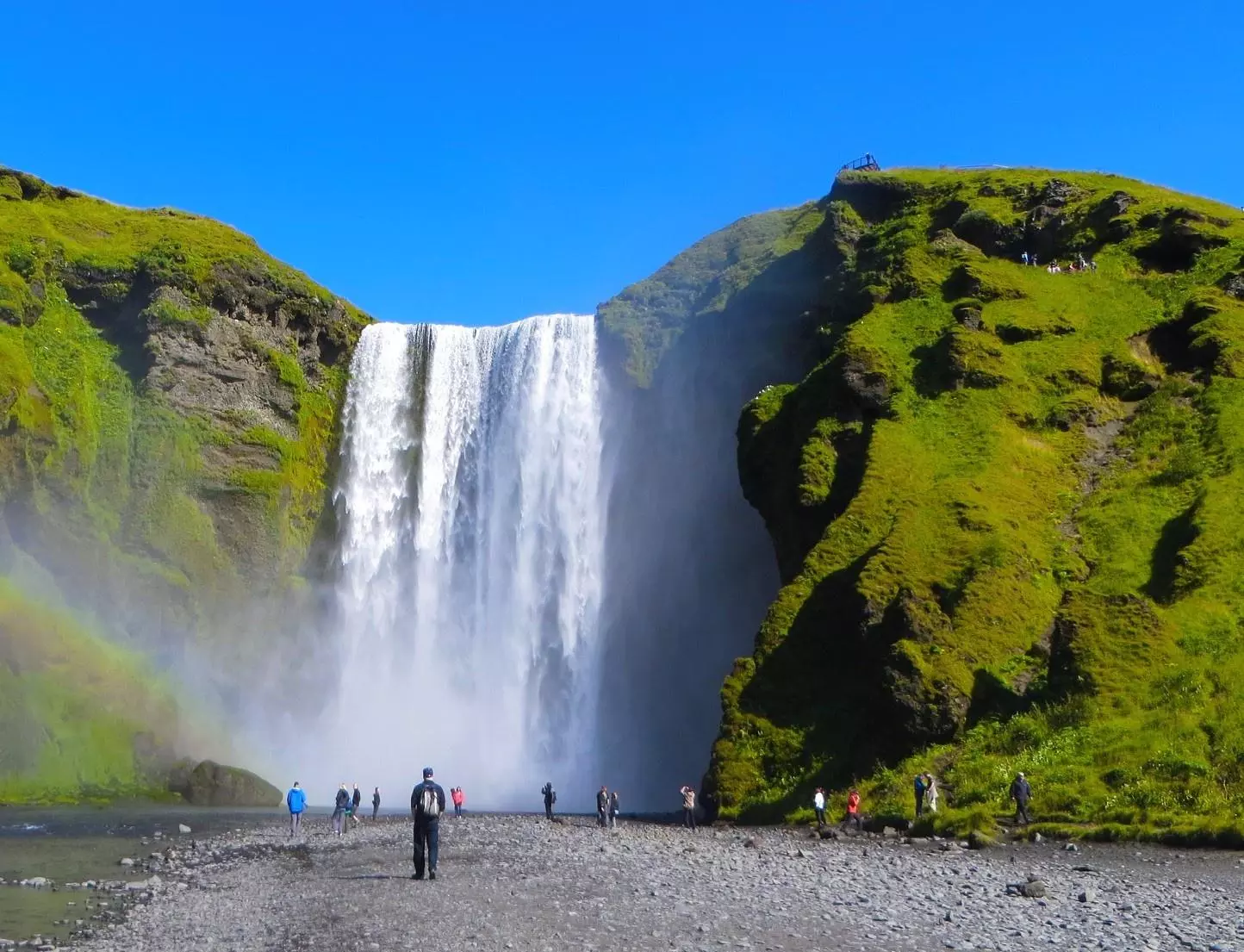 Level of difficulty:
Easy (1 out of 5).
Minimum age requirement:
8 years (to ensure the comfort of all passengers).
What's included:
7 nights in hotels of 3-4* with double rooms, private bathrooms, 7 buffet breakfast, 6 two-course dinners (including an all-you-can-eat-buffet in Reykjavík), round-trip direct bus between Keflavík airport and Reykjavík, assistance in English, Spanish guide, entrance to the Lava Cinema, local culinary tastings (Skyr, Brennivín), snack from a farmhouse, Icelandic ice cream with chocolate, entrance to Kerið, entrance to Petra Museum, entrance to Glaumbær Folkloric Museum, Earthquake house experience, Perlan Museum, view deck, Aurora show, certificate of crossing the continents, practical gift, local taxes.
Optional Tours:
Blue Lagoon entrance:
Comfort, Premium
,
Luxury
: Whale watching tour from Húsavík, Hop-on-Hop-Off Bus in Reykajvík.
We strongly recommend pre-booking these optional tours ahead in order to secure the availability. Demand for these tours is very high and the capacities are limited.

Important information about the 8-day complete exclusive trip on Iceland with Auroras:
Prices are calculated in EUR per person.
What to bring: Iceland is a beautiful country and while the temperatures in the summer months are quite comfortable, there is always the possibility that it will be cold and wet. Please pack waterproof and warm clothing (preferably not cotton) such as long pants, jackets, hats, gloves and scarfs as well as comfortable walking shoes which have a good grip and, if possible, also waterproof.
There is an extra charge for individuals or requests for individual rooms.
Not included in this exclusive holiday package: lunches (there will be time each day to have lunch), drinks other than specified, optional tours and entrances, any other item or cost not mentioned in "What´s included". Extra costs caused by the weather/climate conditions of force majeure will be charged to the client. ISLANDICA s.r.o. is not responsible for flight changes or delays.
Optional Tours: Comfort, Premium or Luxury Entrance to the Blue Lagoon, whale watching tour from Húsavík.
If you are interested in a taxi transfer to and from Reykjavík and the airport, please let us know and we can arrange it.
Size of group: Maximum 30 guests per trip and guide.
Accommodation locations: Reykjavík, Hveragerdi, Vatnajökull, Egilsstaðir, Húsavík, Akureyri, Reykjavík.
Reservation payment: To confirm the reservation, a 15% deposit is required, paid through the reservation system.

Important Note: These packages are operated by ISLANDICA s.r.o. In order to confirm the reservation for this particular package, a deposit of 15% is required. The remaining payment will be required 80 days before the beginning of the trip. Upon confirmation of the reservation, the client will receive the contract of the trip. Acquiring any service through www.viajesislandia.com, the client accepts our conditions of service and cancellation. We recommend to our clients that they obtain travel insurance and cancellation insurance in their country of origin. Code: ISL:762