HOT DEAL IN ICELAND: 7 DAY CIRCUIT PACKAGE

Accommodation and car package "Iceland Circuit"
Do you want to make the most of your time and go around Iceland in 7 days? SAVE 160€ / PERSON BY BOOKING NOW! It's the best deal in Iceland for an accommodation and car package "Circuit around Iceland in 7 days" with which you can visit the most famous places in Iceland in a route perfectly designed to go around the island.
This package includes 6 nights in high-quality hotels in a double room with private bathroom and breakfast included, new car rental models with GPS navigation and WiFi connection, tickets to the Lava Cinema, the Perlan Museum and the Earthquake House and a custom made itinerary. You can spend the night in truly magical places, such as in the vicinity of the largest glacier in Europe, Vatnajökull, or in the surroundings of Lake Mývatn, from where you can discover the wonders of northern Iceland.
BOOK YOUR HOTEL AND CAR PACKAGE TRIP FOR 7 DAYS - CHOOSE THE DEPARTURE DATE (ARRIVAL DATE TO ICELAND)
Loading...
ITINERARY FOR THIS HOT DEAL FOR A 7 DAY ICELAND TOUR WITH CAR AND HOTELS
DAY 1: ARRIVAL IN ICELAND - REYKJAVÍK
Welcome to Iceland! When landing your flight you will pick-up the rental car at the office at the airport. According to the arrival time of your flight, we will recommend you in the itinerary to visit the Reykjanes peninsula, with the fascinating balneary of the Blue Lagoon or go directly to it to the capital, Reykjavík, where your first accommodation is booked and you have included the entrance to the Perlan Museum, the place with the best views of the entire city. Night in the center of the capital.
DAY 2: GOLDEN CIRCLE OF ICELAND
After breakfast at the hotel you can start your adventure in Iceland through the Thingvellir National Park, where the first European parliament Althing was founded. The second stop we recommend is the Fontana Geothermal spa, where you can recharge your batteries by giving yourself a relaxing bath. From there, you can head to the geothermal valley of the well-known Geysir, which gave its name to all the geysers in the world. Next, visit the impressive Golden Waterfall of Gullfoss. Night in Hveragerdi (hotel with thermal pool and Icelandic hot tub - hot tub).
DAY 3: SOUTHERN COAST OF ICELAND
After breakfast you will head to the south of Iceland. You have the tickets to the Lava Cinema included and the Earthquake house. On the way, you will be able to enjoy two magnificent waterfalls that you will never forget, Seljalandsfoss and Skógafoss. Then there is the magnificent black sand beach Reynisfjara's black sand beach and the charming coastal town of Vík, a favorite spot for many birds. From there, you can head to your accommodation. Night in the Vatnajökull area in beautiful rural hotel.
DAY 4: VATNAJÖKULL - EASTERN FIORDS
In the morning, time to explore the largest glacier in Europe, Vatnajökull. Possibility of taking optional excursions of trekking in the glacier, snowmobiles, visit to the ice cave, etc. Visit to the Jökulsárlón glacier lagoon (optional boat tour between icebergs according to season) and from there, continue towards the fjords of the east. Night in Egilsstadir.
DAY 5: LAKE MÝVATN AND SURROUNDINGS
Day to visit some of the wonders of northern Iceland, such as the Grand Canyon Jökulsárdalur or the geological formations of Ásbyrgi. To reach the north, you can pass through the old scenic route of Mödrudalur, and stop at the farm of the same name. Next, you can see the Jökulsárgljúfur National Park, with the largest waterfall in Europe, Dettifoss and visit the "Canyon of the Gods", Ásbyrgi. Passing the Tjörnes peninsula, if you have you can get to the village of Húsavík, the best place to take a whale watching trip. Night in Mývatn - Húsavík.

DAY 6: HÚSAVÍK AND AKUREYRI
If you did not have time the day before, take the morning to discover Húsavík and its whales. Before arriving at one of the most beautiful cities in Iceland, Akureyri, you can not miss the impressive waterfall of the gods, Godafoss. Night in Akureyri.
DAY 7: WEST ICELAND AND KEFLAVÍK
The adventure through Iceland comes to an end not without first enjoying some of the most interesting places in the west of the island, such as the strongest hot spring in Iceland, the Deildartunguhver, and the waterfalls of Hraunfossar and Barnafoss. Return of the vehicle at the airport before your flight.
DETAILS CIRCUIT ICELAND IN 7 DAYS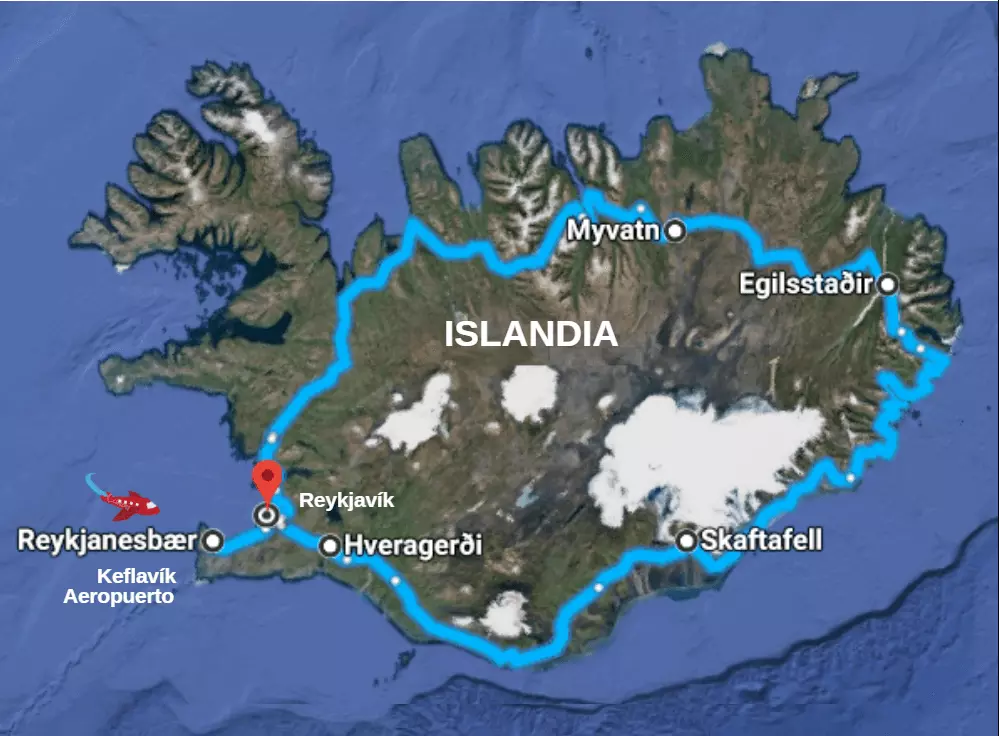 Duration of the tour: 6 nights / 7 days with the possibility of adding additional nights.
Departures: Low season 1.1.-30.5. 2020 and 1.10-22.12.2020
High season 1.6.- 31.9.2020 and 23.12-31.12.2020
Level of driving difficulty: 1 of 5 possible.
Accommodation areas:Reykjavík, Hveragerdi, Southern coast -Vatnajökull, Eggilstadir, Mývatn and Akureyri.
Price includes: 6 accommodation nights in 3-4 * hotels with private bathroom and Icelandic buffet breakfast, 7 days rental car (new high quality models with unlimited mileage, standard CDW insurance, WiFi connection, GPS navigation programmed in Iceland with all places of interest and discounts on gasoline), pick-up and drop-off at Iceland's KEF-REK international airport, 24-hour roadside assistance, recommended itinerary for your trip, entrance to the Earthquake house, entrance to the Lava Center, entrance to the panoramic terrace of Perlan, assistance in English/Spanish, local taxes.
Price doesn't include: Expenses derived from adverse weather or due to force majeure, any other concept not specified in the section "Included in the price".
What vehicles are offered?
CAR CATEGORIES: Category A = small car type Hyundai i10, Category B = medium-sized Renault Megane car, Category S = medium-large car type Renault Megane Estate, Category N = large car type Nissan Quashqai SUV, Subaru Ferester, Category F = medium off-road car type Dacia Duster, Category G = Suzuki Vitara medium-large SUV, category I = large SUV type Toyota Land Cruiser.
HOW DO OUR TRIPS IN ICELAND WORK?
Have you found a trip which suits you? How to proceed further?
Choose the first date of your trip (typically your arrival date to Iceland) by selecting the trip, date and number of travelers found next to every tour calendar and click on the "Book" button. In the next step fill in your personal data, email, address and phone number and proceed to the payment. You can choose a full payment or a deposit payment.
Have you found a trip which suits you but you want to change the itinerary a little? Would you like to add or remove some days, or perhaps change (add/remove/switch) the different experiences which are included?
Don´t hesitate to contact our travel agency at This email address is being protected from spambots. You need JavaScript enabled to view it. and you will receive an accordingly modified trip with a price, availability and a payment link for confirmation to your email the next business day at the latest.
What exactly will happen if I as a customer click on the "reservation button" - what are the next steps which will follow until my arrival to Iceland?
After a trip reservation you will receive an automatic confirmation to your email. Our reservation department will contact you by email and/or phone the following business day. We will create you recommended itinerary for your trip tailored accordingly to your expectations and budget. This itinerary is typically adjusted with the customer within 2 business days. After the final payment (5 weeks in advance of the starting date at the latest) you will receive official vouchers to all services you have chosen. These vouchers are clearly aligned with the itinerary so you can not confuse them. You will also receive direct contacts to our support during your trip. All these documents you receive at least a week in advance of the first day of your trip.
Are there any additional fees?
No, the entire price is what you see for the package you have chosen. If you wish to further tailor or edit your personalized itinerary, you can add extras or other experience according to your individual wishes (e.g. bigger car, extra insurance, whale watching, admission to the lagoons, northern lights tours, helicopter exploring flights, glacier hiking...)
What is expected from me as a customer?
The customer has to buy the flight tickets to/from Iceland (KEF - Keflavík international airport). You can ask us for recommendations. Then please send us your flight schedule and flight numbers to This email address is being protected from spambots. You need JavaScript enabled to view it. and pay for the chosen services. That's all. The rest will be managed by us (your selection) according to the mutually agreed upon itinerary.
Why should I as a customer reserve a trip with ISLANDICA (viajesislandia.com)?
Our travel agency has been providing services in ICELAND since 1996; we prepare detailed customer tailored itinerary; we run continuous competitors check for the best price/value trips for our customers; we only work with approved and comfortable hotels/accommodation with scrumptious breakfasts - for our guests we request the best and quietest rooms; we have an excellent customer satisfaction rate at 96,7% as of 2019; and we have mandatory official Travel agency insurance.
Where are the meeting points - exact address, place at the airport... How can I get there??
Our trips typically start immediately at the Keflavík international airport either by meeting with our assistant who will be waiting for you in the Arrival Hall with your name written clearly on a sign (we check the flight schedule to be there on time) or you will take the transfer (taxi or bus) directly in front of the airport. In case of renting a motorhome you will be picked up directly at the airport by an assistant who will transport you to the pickup station (less than 5 minutes away). And in the case of a car rental you can either walk the 5 minutes to pick up your rental car or you can take the airport shuttle which passes every 15 minutes. All of these necessary details will be included in your personalized itinerary. We ensure that you can not get lost.
Where and when does the trip end?
Our trips typically finish at the Keflavík international airport. If the end of the trip is at another place, we will add the available options to get you to Keflavík airport on time for your flight. We ensure that the itinerary is prepared keeping in mind your return flight.
How should I find the hotels/accommodation (tours departure) during my trip?
Each place in the itinerary is well described. We know that in Iceland it is sometimes difficult to find the exact place by the address only, therefore we use other indicators in the itineraries as well. (GPS coordinates, parking lots, crossings, distances etc.)
What is expected from me at the hotel/accommodation reception desk?
At the reception desks you are obliged to provide your ID card (or passport) together with a voucher from our travel agency. That's all. No additional payments are required. (full accommodation costs are covered incl. city taxes, VAT)
What will I see/enjoy in Iceland?
You have everything written in your detailed itinerary with options what to do and see in certain areas.
What shall I do if I have any issue or if I need assistance?
You can contact an ISLANDICA travel agency by the direct assistance line (email or phone).
Important note: These packages are operated by ISLANDICA s.r.o. To confirm the reservation the payment of the deposit of 15% is required. The remaining payment must be made 45 days before the start of the trip. When confirming the reservation, the client will receive the travel contract. By contracting any service through www.viajesislandia.com, the customer accepts our terms of service and cancellation. We recommend to clients who take out travel insurance and cancellation insurance in their country of origin. CIRCUIT ICELAND 7 DAYS. Travel code IS7E. ID714
Circuit around Iceland in 7 days
Tags: exclusive tour car and accommodation, iceland tour, tour around iceland, 7 day tour, private tour