SHUTTLE BUS TRANSFER TO AND FROM THE BLUE LAGOON
How to get to the Blue Lagoon Iceland is as easy as choosing your pickup location and time you would like to arrive at the Blue Lagoon Spa (which depends on your entrance ticket's time). Airport buses leave from the Keflavik International Airport multiple times throughout the day, and there is also a shuttle bus running from Iceland's capital city of Reykjavik every hour.
From the airport, the ride in a new, luxury tourist bus is only 20 minutes, and the bus transfer from Reykjavik is only 40-45 minutes. After a relaxing stay at the Blue Lagoon or Blue Lagoon Retreat Spa, visitors can choose to return to the same location or to continue their journey on to either the airport or the capital. There are 6-7 airport buses daily between the airport and spa and at least 12 shuttle buses per day between Reykjavik and the Blue Lagoon.

RESERVE THE BUS TRANSFER BETWEEN REYKJAVÍK OR KEFLAVÍK AIRPORT AND BLUE LAGOON:

Keflavík International Airport Bus to Blue Lagoon
If you are just arriving to Iceland and wish to go directly to the Blue Lagoon, there are 7 or 8 airport shuttle buses going each day (winter and summer differ slightly) you can easily catch a bus starting at 6:25 (summer hours) or 07:30 (winter hours) until 17:30. Please see the timetable below for all available time slots. Upon arriving at the airport, head to the Service Desk of Airport Direct (in arrivals) and you will be directed to the pickup point. The bus transfer itself lasts only about 20 minutes and you will have a chance to get your first glimpse of Iceland from the comfort of a new tourist bus. Use the WIFI to start posting beautiful pictures of the drastic landscape as you arrive to the Blue Lagoon.
Reykjavík Shuttle Bus to Blue Lagoon
After spending some time in Reykjavík, taking in all of its splendor, it's time to unwind and spend a few hours soaking in the natural minerals the Blue Lagoon contains. There are 14 convenient bus stops to choose from within Reykjavík all throughout the city center and close to most hotels. Be sure to be at the bus stop 30 minutes before the scheduled bus transfer time as buses are not permitted to wait for any passengers. There are shuttle buses every hour on the hour starting at 7:00 in the winter and 06:00 in the summer until the evening (see the timetable below). Once aboard, you can sit back and relax as the city slips away and you drive off to the paradise that is the Blue Lagoon. The ride is a mere 40-45 minutes, just enough time for a nap or to catch up on Instagram.
Blue Lagoon Shuttle Bus to Keflavík International Airport
Even if you don't really want to leave, you might need to get to the airport from the Blue Lagoon to catch your flight home. Bus transfers are offered 5 times daily between 9:25 and 16:40 (see the timetable below) to bring the relaxed travelers from their final destination on Iceland to Keflavik International Airport. Be sure to take advantage of the ride to take in the final views of this gorgeous location you were lucky enough to visit for a short time.
Blue Lagoon Bus Transfer to Reykjavík
Now that you are fully rested and your skin has absorbed all the healthy minerals it can for the day, it's time to head to the capital city to absorb the culinary culture and excitement that Reykjavík has to offer. There are buses every hour from 09:15 till at least 22:15 (or later in the summer) so you can enjoy the Blue Lagoon till quite late in the evening. (see the timetable below for more specific times.) In less than 45 minutes you'll go from stark, lava covered earth to a modern city, full of bright lights.
Details about the shuttle bus transfer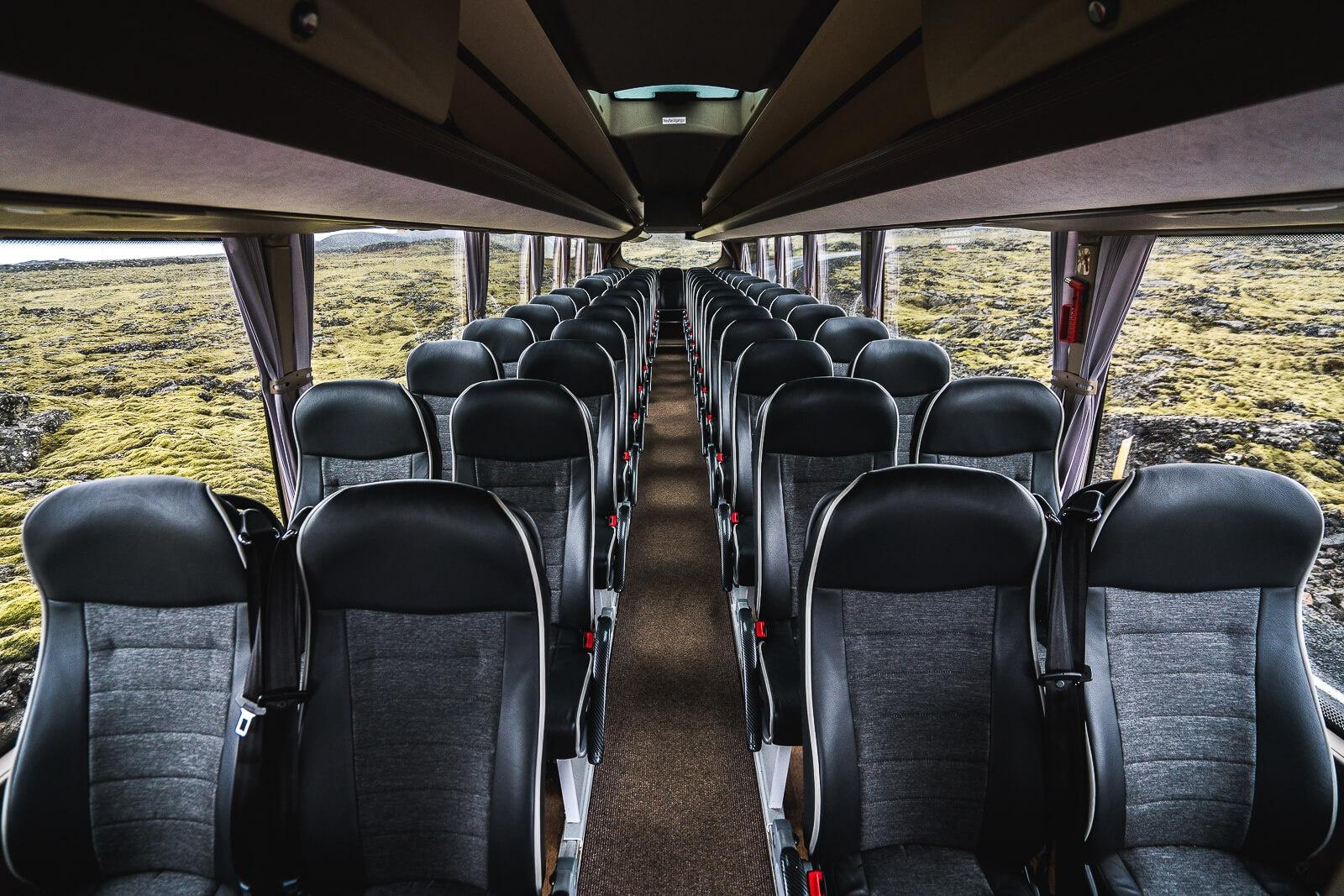 Duration of a bus transfer to Blue Lagoon: 20 minutes from the Keflavik Airport or 40-45 minutes from Reykjavik (capital of Iceland).
Departures from Reykjavík: each hour, on the hour, from 7:00 - 19:00 and extended hours in specific months. Consult the map for bus stops. Visitors MUST be at the bus stops 30 minutes before the pickup time.
Departures from Keflavík Airport: 7-8 departures / day between 7:30 and 17:30. Go to Service Desk in arrivals for directions to the bus.
Departures to Reykjavík: hourly between 9:15 and 22:15 and extended hours in some months.
Departures to Keflavík Airport: 5 times daily from 9:25 to 16:40.
Minimum Age: 2 years for the Blue Lagoon and 12 years for the Retreat Spa.
Transfer details: Travel comfortably and in style, buses equipped with luxurious seats, WIFI and an experienced driver. Short walk between the bus and the entrance to the Blue Lagoon, so dress appropriately depending on season.
Information and timetable for bus transfers to Blue Lagoon Iceland
Note: Please see below for all current times for the shuttle buses and airport buses to and from the Blue Lagoon. Remember that to guarantee you do not miss your entrance to the Blue Lagoon, schedule a pickup from the Keflavík Airport at least 30 minutes before your entrance ticket to the Blue Lagoon and at least 90 minutes before if arriving from Reykjavík. In addition, from Reykjavík, arrive to the bus stop at least 30 minutes early as drivers will not wait for passengers.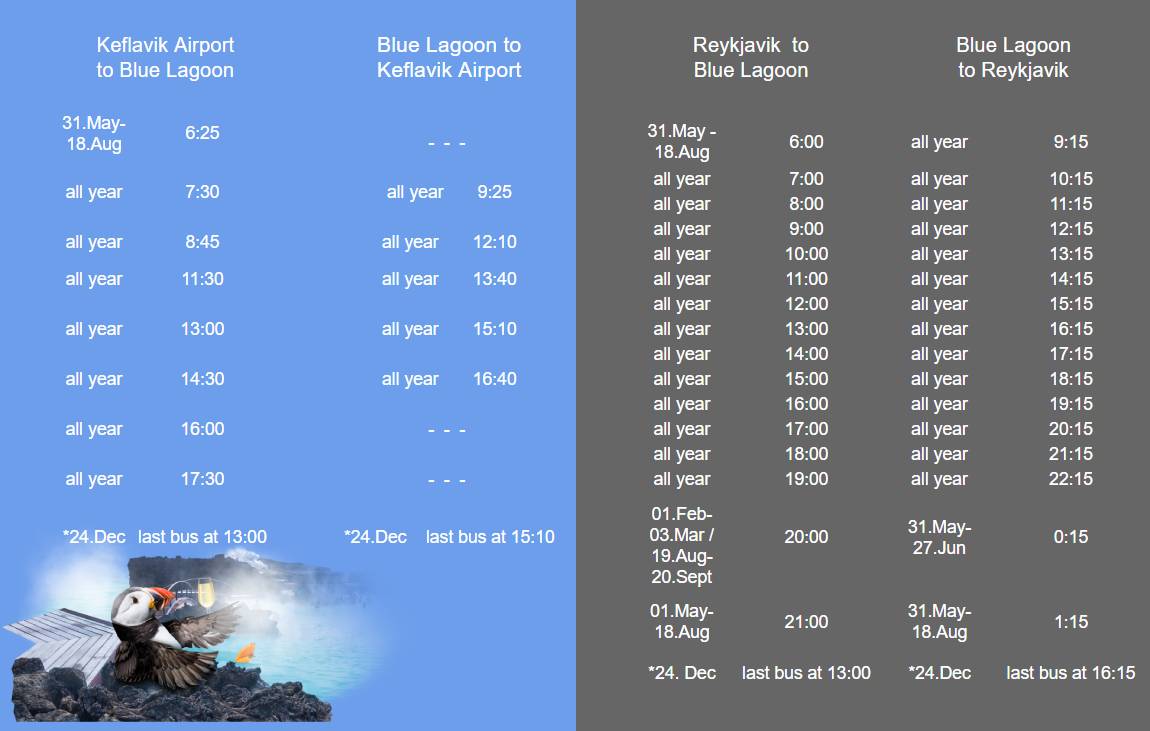 The world famous and internationally acclaimed Blue Lagoon is conveniently located between the Keflavík International Airport and the capital city of Iceland, Reykjavík. For those just arriving, why not start your journey in Iceland with a relaxing dip in the warm blue waters? Or if you have just finished your adventures and need to give some love to your muscles which just finished an amazing trek, end your time in Iceland with the therapeutic heated water experience of the Blue Lagoon, or even better, go all out and treat yourself to the Retreat Spa, a truly luxurious experience. Join the millions of locals, fellow travelers and celebrities who have come to the Blue Lagoon in search of rest, relaxation and wellness. Don't miss out on this unique encounter, book both transportation and entrance (separately) well in advance as the limited tickets can sell out weeks in advance.