MAKE A RESERVATION AT ONE OF THE BEST RESTAURANTS IN REYKJAVÍK
- ALL YOU CAN EAT BUFFET -
RESTAURANT - BEST SEAFOOD BUFFET IN REYJKAVIK
Would you dream of leaving Iceland without indulging in traditional Icelandic food? Don't miss out on the best seafood restaurant in Reykjavík. Make a reservation will allows you an "all-you-can-eat" experience from their extensive menu, including a wide variety of fish, duck, seafood, salads, soups, delectable desserts and even a surprise typical of an Icelandic meal. Also included in the meal is glacier water, coffee and tea. Reserve online and guarantee that you will have a beautiful table waiting for you upon arrival. Reservations are available for lunch or dinner (prices differ accordingly and the reservation is only for those who made it). The restaurant is located in the very center of Reykjavík, close to all hotels and accommodations, easy to get to from anywhere. Come to Iceland and taste something new!
MAKE A RESERVATION FOR LUNCH OR DINNER AT THE BEST BUFFET RESTAURANT IN REYKJAVIK:
Loading...
Information about the best restaurant in Reykjavík
This popular restaurant is found in a beautiful, old building in the downtown area of Reykjavík, the capital of Iceland. It provides a relaxed and elegant ambiance, with wonderful service and an "all-you-can-eat" seafood buffet menu full of the best culinary dishes that Iceland has to offer. You can select from seafood, turkey, and fish. Vegetarians and vegans will also delight in the large quantity and quality of the many soups and salads that they offer.
The Lunch Buffet is the perfect option for friends or families who would like to sample many cold fish dishes (marinated herring, smoked salmon, fermented shark are just some of the traditional Icelandic dishes to start with). The menu changes on a daily basis but includes some of the dishes that are served in the dinner buffet. This includes a daily soup with fresh baked bread, a large selection of cold appetizers, a hot main dish, pasta salad, and traditional desserts and Italian gelato to top it all off with.
The Seafood Dinner Buffet is a delicious treat for food lovers of all tastes and palates. Come hungry as the dinner option offers the same dishes as lunch and much MORE! After trying some of the cold starters (marinated, smoked or fermented fishes), you'll get to select from even more hot main dishes such as blue ling with mango and jalapeno sauce, traditional fish stew, and pan fried seafood just to name a few. In between, add some of the sides: spiced rice, sweet potato salad, beetroot and goat cheese salad, and roasted vegetables. And don't forget to leave room for dessert! There are traditional sweets such as rhubarb cake and Skyr mousse (an absolute MUST) as well as some international favorites such as a variety of Italian gelato and chocolate brownies.
Take advantage of your time in Reykjavík to try all the best foods Iceland has to offer in one location, with a great atmosphere and superb service.
DETAILS ABOUT RESERVATIONS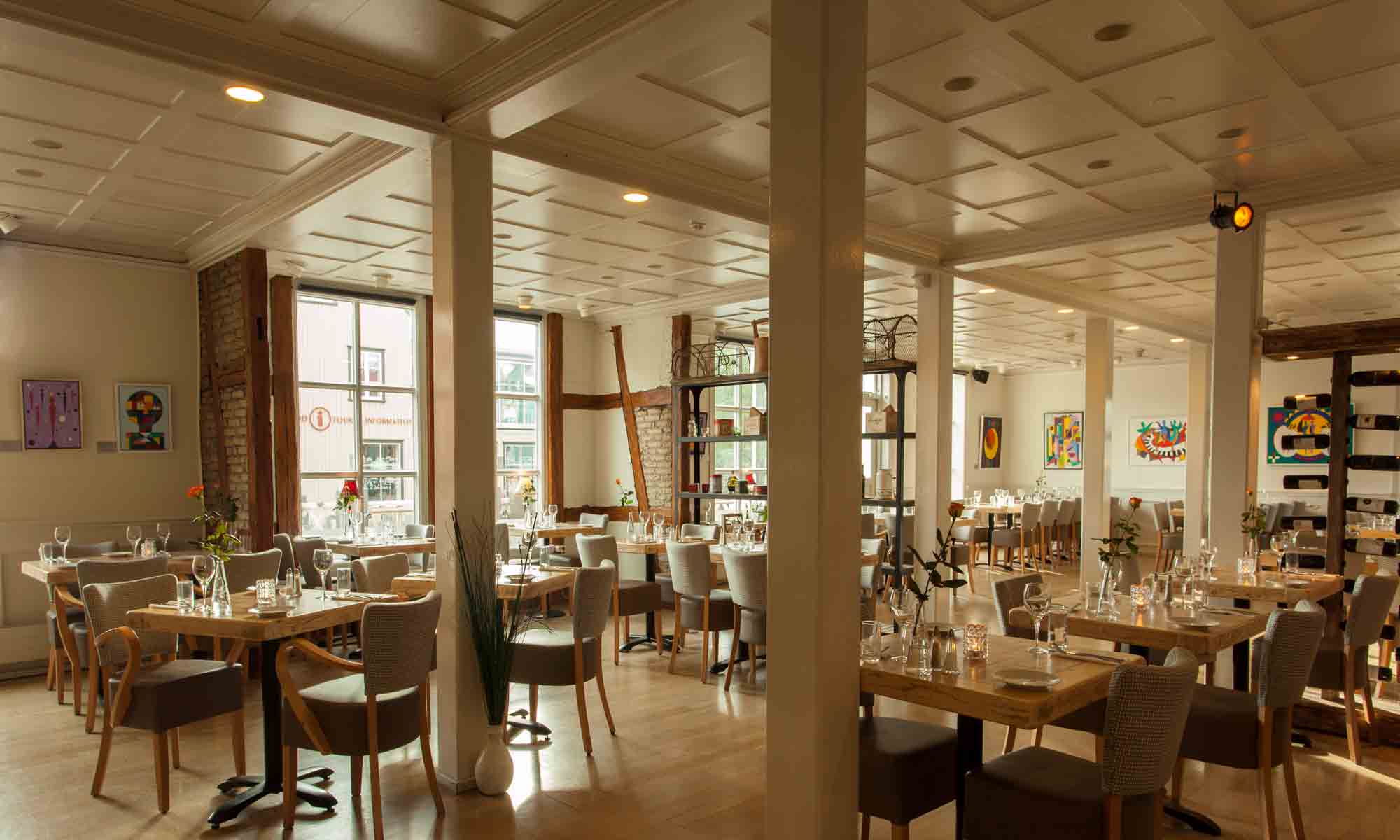 Reservations:

It is recommended that you make a reservation ahead of time and online to ensure availability.
Opening hours and time needed:
Open every day for lunch from 11:30 to 15:00 and dinner from 18:00 to 22:00.. "All you can eat"!
Address of the restaurant:
Vesturgata 2, 101 Reykjavík, Iceland.
Included in the price:
The reservation includes a table reserved in your name, access to the open "all you can eat" buffet with glacier water, coffee or tea, local iva.
Food Dishes:
Soup and bread, cold appetizers, hot dishes, salads, vegetable dishes, cakes, pies, gelato
Not included:
Beer, wine, espresso, latte, soft drinks or other drinks not included on the menu.
History of the best buffet restaurant in Reykjavík
The restaurant has quite a history that many guests find fascinating but few are lucky enough to learn about. In 1863, a man named CP A Koch built a house with a pier out front. However, in order to receive the permission to go through with this construction, he needed to agree to create and allow for passage of all people through a corridor in the building.
The Pier House as it came to be called, was at first a warehouse and office for the sea post. Many came to feel that this was the unofficial gateway to Reykjavík. Travelers and merchants arriving would pass from the boats to land through this passageway and those on land would await news of loved ones who had gone abroad from this location.
The pier later became known under the name "Fisher's Pier" for Waldemar Fischer, a Dutch merchant who used it was a warehouse.
When the Council of Reykjavík mandated the use of housing numbers in 1888, the Pier House was granted the address 'Vesturgata 2 (West Street 2)' and it became the first numbered house and the center of the old city.
This establishment became a textile house in 1903. Later still, storage of coal, fishing gear and salt for the H.P. Duus company and subsequently the pier was renamed the Duus Pier.
In 1927 several levels were added so that the building grew from one story to three under the Nathan & Olsen trading company.
This same building became the main office and sales office for Icelandair in 1960; then the premises for Alafoss Wool Factory; then a night club; and finally a restaurant as it is today.
The restaurant in Reykjavík is one of the biggest in the city and definitely one of the most popular.
Note: Please remember that beer, wine, espressos, lattes, soft drinks and other drinks are NOT included in the price of the buffet (lunch or dinner). The reservation is only valid for either the lunch OR the dinner times, according to what you have selected in the booking. ID743.