WONDERS ON THE VATNAJÖKULL GLACIER
-HIKE FROM SKAFTAFELL TO FALLJÖKULL
Come find out why the Vatnajokull Glacier tour is the number one glacier experience in Iceland! This tour is perfect for a short but all-inclusive experience, allowing visitors to walk on the largest glacier in Europe while exploring the many different facets and wonders of a glacier, including glacier tongues such as the Falljökull Glacier, ice caves, crevasses and snowy peaks.
The Vatnajokull Glacier tour and hike on Skaftafell grant visitors the ability to gaze upon frozen formations, while hidden beneath are volcanes which helped to form the Vatnajokull Glacier as we know it today.
Glaciers are more than bodies of stagnant ice, they are moving, living creatures and your guide will be sure to show you the many wondrous secrets that are only available to visitors who dare to step onto the ice.
BOOK YOUR VATNAJÖKULL GLACIER HIKE AND TOUR HERE:

Loading...
DETAILS OF THE GLACIER HIKE ON VATNAJÖKULL EXCURSION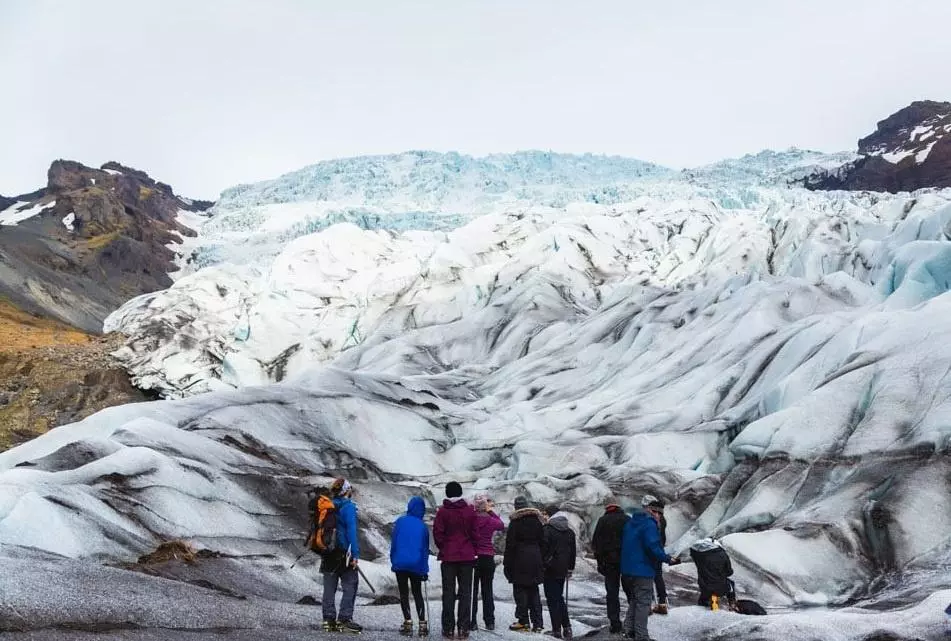 Level of difficulty: Easy (1-2 of 5)
Duration of tour: 3.5 hours including transportation
Place of tour: Vatnajökull Glacier National Park
Included in the price: Transportation to the glacier, guided tour, certified English speaking guide, equipment necessary to hike on the glacier, return transportation to Skaftafell, local taxes.
Dates and times of departure: 5 times daily; please consult the reservation panel, times depend on reservations
Pick-up point: Skaftafell Booking Center, over 300km/205mi from Reykjavík, about 4 hours in car. To arrive, take Highway 1 till Skaftafell.
Minimum Age: 8 years
What to bring: Due to the nature of Iceland's climate, please come prepared with warm clothing, suitable for cold weather. This includes waterproof jackets, pants, hiking boots, hats, gloves, scarves, sunglasses and of course, a camera.
MORE INFORMATION ON THE EXCURSION:
HIKING TOUR ON THE GLACIER
The short but thrilling 3-hour tour will start with a 15-minute car ride in the direction of the Falljökull Glacier. From there, it is a 30 minute hike up to the Falljökull Glacier with wondrous views the whole route, including the highest peak in Iceland: Hvannadalshnúkur. During the climb, your experienced guide will discuss the nature of glaciers and show the ways in which current climate changes have and will and have effected these glaciers. Once you're reached Falljökull, it's time to gear up with crampons and set out on the marvelous and unforgettable experience of walking on the glacier. The hour you spend on the glacier will be something to remember forever as you see first hand how a glacier is always changing and always beautiful.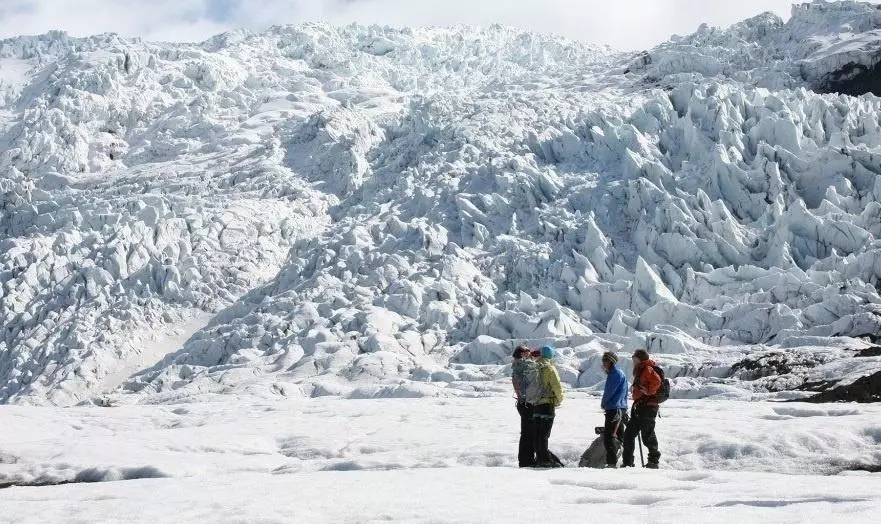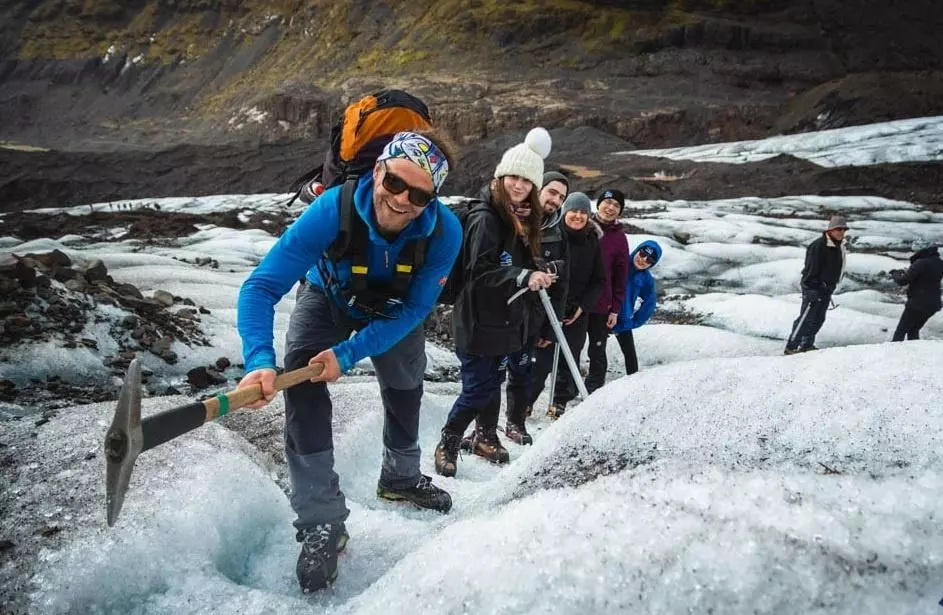 Important note: All of the activities on the glacier happen according to the full and complete responsibility of the clients. ISLANDICA s.r.o. does not take responsibility for any incidents that occur involving the participants while on the excursion. Any action taken by the participants, is at their own risk and ISLANDICA s.r.o. is not liable for any harm, damage or injuries experienced by the participants. By signing up for and making a reservation for this or any other tour, excursion or outing with ISLANDICA s.r.o. the participants accept these conditions. It is possible that the participants will be asked to sign a waiver to ensure understanding of these conditions, declaring that he or she is conscious of the inherent risks that come with these activities. Code AA:GG-GW. ID735