Golden Circle and South Coast of Iceland in 3-Days

You haven't seen Iceland till you travel with us. We've combined the best and brightest from the Golden Circle and South Coast of Iceland in a convenient and thrilling 3-day tour package. It's got everything: the Golden Circle, the Seljalandsfoss and Skogafoss Waterfalls, Vatnajökull Glacier (biggest in Europe), Skaftafell, Diamond Beach, Jökulsárlón Glacier Lagoon, the scenic coastal town of Vík, Reynisfjara's black sand beaches, and a glacier hike.
Enjoy the trip from a VIP minibus with free WIFI on board, your personal, experienced and English speaking tour guide, entrance to a natural ice cave, hotel accommodation and breakfast.
You think you've seen it all till you travel with us. Come and be amazed in the Golden Circle and the South Coast.
Now available: carbon offset you trip when you book your trip with us.*
RESERVE YOUR 3-DAY TRIP ON THE GOLDEN CIRCLE AND SOUTH COAST OF ICELAND HERE:
Loading...
ITINERARY FOR THE 3-DAY GOLDEN CIRCLE-SOUTH COAST OF ICELAND TRIP
There is very good reason why the Golden Circle and the South Coast are the two top tours in Iceland. With so much to see and so little time, we've concocted the most loved attractions so you can see it all in our 3-Day Golden Circle / South Coast trip. Allow us to guide you along this magnificent stretch of land, from Reykjavík, past farmlands, glaciers, volcanoes, black sand beaches, into caves, and behind waterfalls.
OVERVIEW:
DAY 1: GOLDEN CIRCLE - THINGVELLIR - GEYSIR - WATERFALLS
DAY 2: SOUTH COAST: REYNISFJARA - JÖKULSÁRLÓN - DIAMOND BEACH - ICE CAVE
DAY 3: GLACIER HIKE ON VATNAYJÖKULL GLACIER
DAY 1: GOLDEN CIRCLE: Þingvellir - Geysir - Gullfoss Waterfall - Seljalandsfoss - Skogafoss - Vik
Pick-up from your hotel or designated tourist bus stop in Reykjavík (8:00 a.m.**)


Head east into the Golden Circle (one of the most popular destinations in Iceland).


1st Stop: Þingvellir National Park has it all - history, culture, natural beauty and geological significance. Its name derives from the Old Norse word for 'thing' or 'assembly' and 'field' and that is precisely what it is. It was named a UNESCO World Heritage Site for containing the world's longest continual parliament from 930-1798. It is also a natural beauty, which will become apparent as you arrive and see the gorgeous rocky cliffs, creating sheer walls on either side, rising above the roads and rivers. And to top it off, you can witness with your own eyes, the diversion of the Eurasian and North American tectonic plates, which here form part of the Reykjanes Ridge and more largely, the Mid-Atlantic Ridge. (Although you would have to wait a whole year to see the divide reach 2.5 cm or about 1 in.)


2nd Stop: the Great Geysir, whose name comes from the Icelandic word for 'to gush' went on to 'name' all other geysers. As this was the first geyser known in Europe, its name became the name for all spouting hot springs. Although no longer active itself, this area is full of geothermal activity.


3rd Stop: Strokkur Geyser is only a few steps away (50 meters to be exact) from the Great Geysir and this one offers a wonderful show which is sure to make all audience members jump back a few feet in surprise. It runs (nearly) like clockwork every 5-10 minutes and usually erupts with boiling water to heights of 20 meters, although it's possible to reach 40 meters.


4th Stop: Gullfoss (Golden) Waterfall, which gets its name from the shade the water turns as it gushes over the lava rocks, is situated in the canyon of the Hvítá River. The water spills down in a dramatic spectacular over 2 rock faces, showcasing Mother Nature's aquatic power.


5th Stop: Seljalandsfoss Waterfall where your waterproof clothing will come in handy when you walk behind the waterfall to an amazing cave.


6th Stop: Skógafoss Waterfall which offers impressive views of the surrounding area and the volcano Eyjafjallajökull. The guide will recount stories of ancient tales that are still alive in the minds of the locals in Iceland.


The night will be spent in Vik, a quaint coastal town, with spectacular views from the Vík í Mýrdal Church. Looking westward, you can see the Reynisfjara Beach and admire the sea stacks from afar. At night we will test our luck at spying the Northern Lights, one of the most magical sights in the world.
DAY 2: SOUTH COAST: Reynisfjara- - Jökulsárlón - Diamond Beach - Ice Cave
Breakfast at the hotel.


1st Stop: Reynisfjara Beach where you can see volcanic created black sand, basalt columns which are all so geometrically exact that they seem to have been carved by man, and rocky sea stacks jutting out of the sea. And if you're lucky and visiting in the summer months, you might spy puffins nesting in the rocks.


2nd Stop: Jökulsárlón Glacier Lagoon, a true crowd pleaser. Watch in delight as small icebergs sail by, heading to the ocean. Also keep your eyes open for seals as they are sometimes seen in these parts.


3rd Stop: Diamond Beach, where some of these icebergs come ashore, making Diamond Beach shimmer and shine against the black sand. It's no wonder so many Hollywood Blockbusters have chosen to use this area for filming locations (think James Bond and Batman).


4th Stop: Natural Ice Cave in Breiðamerkurjökull Glacier, which behind the Northern Lights sighting, might be the second most magical sight in Iceland and the whole world. You'll be surrounded by crystal ice walls, ceilings and floors. The blueish-greenish hue of the ice is simply out of this world and something you have to experience for yourself..


5th Stop: Skaftafell and Vatnajökull National Park for the night, where we will once again brave the cold and gaze upward in order to get a chance to see the Northern Lights.


DAY 3: SOUTH COAST GLACIER HIKE: Vatnajökull Glacier - Jökulsárlón
Breakfast at the hotel.


1st Stop: This day has one and only objective - to hike on the Svínafellsjökull Glacier. Follow your guide, strap on your pair of ice crampons, and climb upon an actual glacier! Glaciers are more than huge pieces of ice. They have so many characteristics and traits that can only be admired once upon them. You'll learn about and see crevasses, ice falls, ridges and sinkholes. Also learn about how must climate change has had an impact on the glaciers in Iceland.


2nd (possible) Stop: If there is time and the weather permits, there is a possibility to stop at Fjaðrárgljúfur Canyon on the way back to Reykjavík.
Enjoy the ride back to Reykjavík as each second on Iceland is the chance to see something new and wonderful.
Details of the 3-Day Golden Circle to South Coast Trip

Level of difficulty: Easy (1-2 out of 5).
Minimum age requirement: 8 years.
What's included: Transportation via minibus w/ pick-up and drop-off in Reykjavík, WIFI on board, English speaking guide, guided tour along the Golden Circle and South Coast, hotel accommodation for 2 nights (private), 2breakfast in the hotel, entrance to ice cave, guided glacier hike, necessary safety equipment.
Destinations: Golden Circle, Thingvellir Nat. Park, Great Geysir, Gulfoss, Seljalandsfoss, and Skogafoss Waterfalls, Vatnajökull Glacier, Skaftafell Nature Reserve, Jökulsárlón Glacier Lagoon, Diamond Beach, Vík, Reynisfjara, ice cave.
Optional equipment to rent: hiking boots, waterproof jacket, waterproof pants, hiking poles.
Size of group: Up to 18 guests per guide.
What to bring? rainproof jacket and boots, layers of warm clothing of fleece or wool (not cotton), hats, mittens, gloves, scarves.
Important information about the 3-day Golden Circle and South Coast Trip:
Please note that the Northern Lights are a natural phenomenon and a spectacular one at that. However, we cannot guarantee that they will be seen.
*ISLANDICA s.r.o. is proud to offer this (and many other trips) in which it is possible to make your trip with us carbon neutral. You can do so when you purchase a carbon offset voucher upon booking this trip. This money will be donated to an Icelandic organization which plants native trees on Iceland. For more information, please feel free to reach out to us and we'd be happy to answer any questions. Thank you very much.

**Pick-up is available at any of the predetermined tourist bus stops around Reykjavík. Please see our page to find out where and how to use the tourist bus stops. Depending on the number of passengers, the pick-up time may vary, so please be ready and waiting at the appropriate location at 8:00 a.m.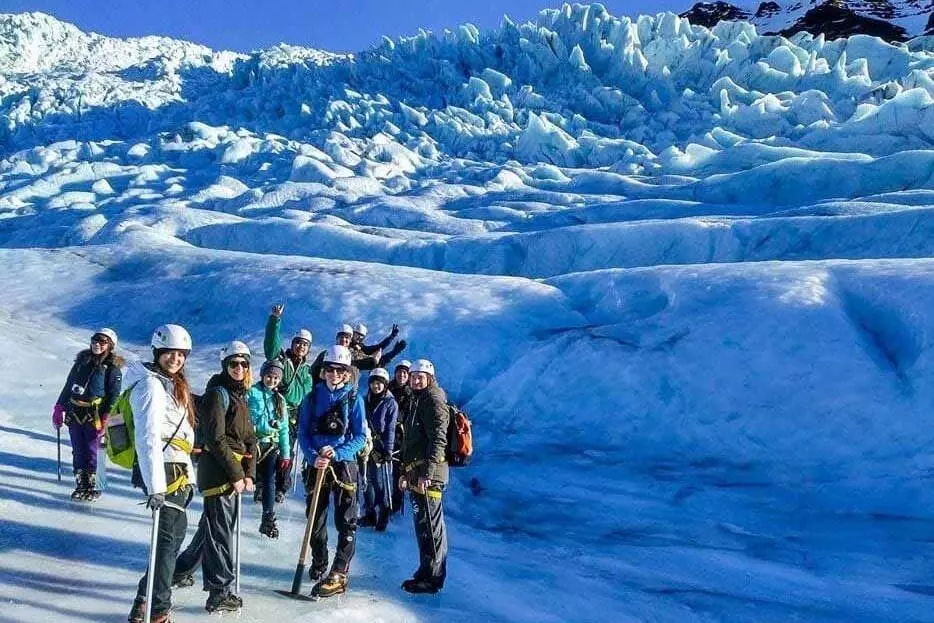 Important Note: All of the activities on the glacier are completed under the responsibility of each client and guest. Neither the provider of the tour, nor ISLANDICA s.r.o. will or can be held responsible in the unlikely event of an accident that could potentially happen during the activities or by an action taken by the guest him/herself. All individuals who partake in these activities accept these conditions. It is possible that there will be additional signature requirements before completing certain activities, declaring that he/she is conscience of these activities that carry with them certain risks. AA-ID757