LAVA TUNNEL TOUR IN ICELAND
Come inside one of the largest lava caves in Iceland
Did you know that Raufarhólshellir lava tunnel is one of the longest lava caves in Iceland and is only 30 minutes by car from Reykjavík? The lava tunnel is up to 30 meters wide with a height of up to 10 meters. With the lava tunnel tour in Iceland you will not only be able to get inside this amazing lava cave but also learn all the details about the volcanic origin of Iceland. In a 1-hour English speaking guided tour you will walk along a path of lava that flowed during the Leitahraun eruption, which happened approximately 5,200 years ago. Near the entrance, the ceiling has collapsed creating three beautiful columns of light within the tunnel. In addition, every winter spectacular ice sculptures form inside the entrance, making the experience of entering the lava tunnel even more interesting. If you don't have rental car and you are staying in Reykjavík, please check the lava tunnel tour with the transfers from Reykjavík.
RESERVE YOUR LAVA TUNNEL TOUR - CHOOSE YOUR PREFERRED DATE:
Loading...
LAVA TUNNEL TOUR IN ICELAND DETAILS
Level of difficulty: Easy (1 / 5)
Reservation: It is recommended to book your seat in advance online to ensure availability.
Activity duration: About 1 hour.
Price includes: 1-hour guided tour, English speaking guide, equipment and local taxes.
Scheduled departures: There are several scheduled departures everyday, check the availability at the reservation calendar.

What should I bring? No matter what time of year you decide to travel to Iceland, it is always important to bring a proper waterproof jacket, warm clothes (waterproof pants like Gore-tex), good waterproof shoes, gloves, light hat, sunglasses and a camera
MORE INFORMATION ABOUT THE LAVA TUNNEL TOUR
The lava tunnel tour in Iceland lasts between 55-60 minutes and there are departures available every hour. You will have the chance to walk along a path of lava that flowed during the Leitahraun eruption, which occurred east of the Bláfjöll Mountains approximately 5,200 years ago. Of course, keep in mind that water generally drips from the ceiling, so you should wear waterproof clothing, as well as good shoes and a coat. The total length of the tunnel is 1,360 meters and the main tunnel is 900 meters long. The lava tunnel is up to 30 meters wide with a height of up to 10 meters, making it one of the longest lava tunnels in Iceland.
The one-hour tour makes exploring the lava tunnel easy and enjoyable. A walkway and several paths have been built in the most difficult terrain, so that everyone can access and enjoy this unique experience. The tunnel lighting highlights the changing colors and clearly shows the powerful volcanic activity in Iceland.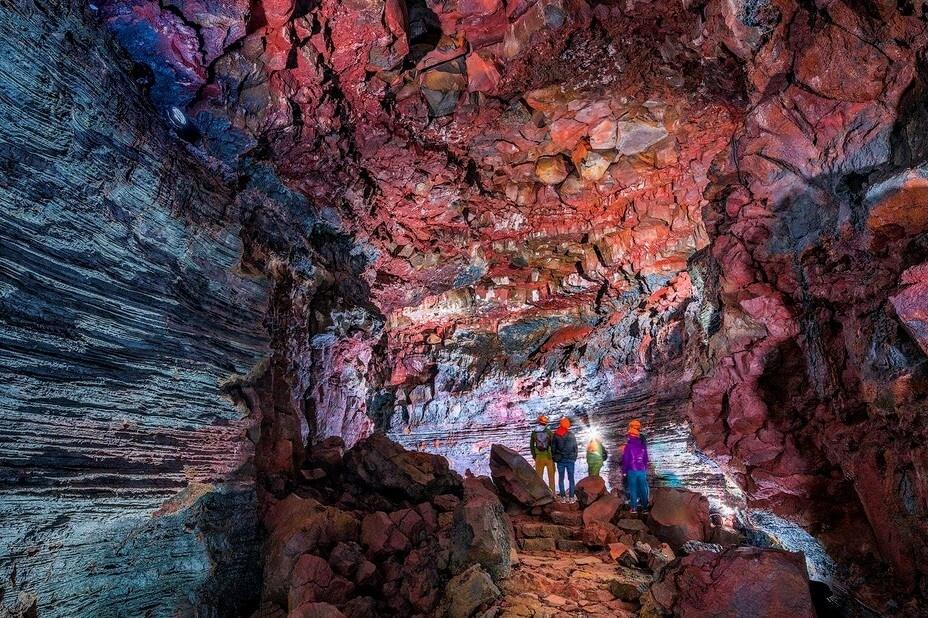 Responsibility All of the activities on this tour happen according to the full and complete responsibility of the clients. ISLANDICA s.r.o. does not take responsibility for any incidents that occur involving the participants while on the excursion. Any action taken by the participants, is at their own risk and ISLANDICA s.r.o. is not liable for any harm, damage or injuries experienced by the participants. By signing up for and making a reservation for this or any other tour, excursion or outing with ISLANDICA s.r.o. the participants accept these conditions. It is possible that the participants will be asked to sign a waiver to ensure understanding of these conditions, declaring that he or she is conscious of the inherent risks that come with these activities. Code: LT-SLT. ID856.