DOG SLEDDING TOUR IN MÝVATN
Ride a sled pulled by huskies in North Iceland
Have you ever been riding a dog sled? In the north of Iceland a group of 25 Siberian Huskies are waiting for you. They live on an open farm with their Icelandic family and they love the snow. If you want to enjoy a unique experience, discover a very special nordic tradition or simply meet these wonderful dogs, book this dog sled tour in Iceland and come to Lake Mývatn, in the north of the island, one of the most popular tourist areas from Iceland.
The dog sledding tour in Mývatn lasts about 2-2'5 hours and takes place on snow between the months of November and the beginning of May. In addition, after the tour you will have time to get to know the dogs better, take photos hug and play with them
.
RESERVE YOUR DOG SLEDDING TOUR IN MÝVATN- CHOOSE YOUR PREFERRED DATE:
Loading...
DOG SLEDDING TOUR IN ICELAND DETAILS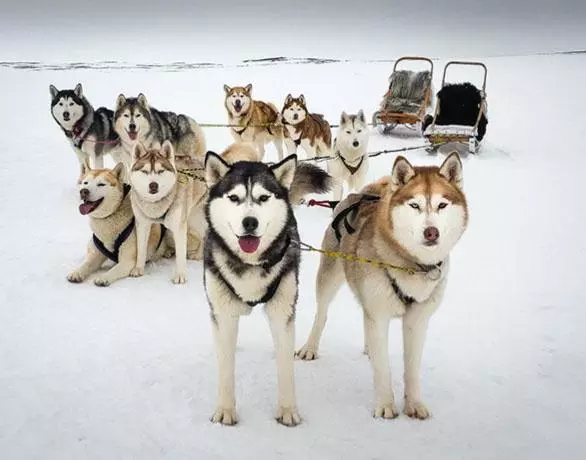 Level of difficulty: Easy (1 / 5)
Reservation: It is recommended to book your seat in advance online to ensure availability.
Activity duration: About 2-2,5 hours.
Minimum age required: 4 years old.
Price includes: Dog sledding tour with Musher guide; visit to the farm; jumpsuit, hat and gloves if necessary; local taxes.
Scheduled departures: Departures everyday from November to the beginning of May. Check the reservation panel to know the availability of the tour. If you are coming via the main road # 1 (Ring Road) from Eastern Iceland, keep driving for about 181 km from Egilsstadir. Instead of turning right, then leave Highway 1, turn left and take Highway 848 for approximately 1.5 km. Turn left when you see the sign "Road Baldursheimur 849". Continue on that road for 5 km. and you will see the sign "Heidi". Turn right and drive to the farm (about 3.5 km.). On the way there is a small bridge and a gate that is closed due to the sheep. Open the door and close it after you.
MORE INFORMATION ABOUT THE DOG SLEDDING TOUR IN MÝVATN
The meeting point for the dog sledding tour in Mývatn is at the Heiði farm itself, on Lake Mývatn, in the north of Iceland (the exact address can be found on the tour booking voucher and in the tour details). Each wooden sled will be shared by two people along with the guide Musher. About 8-10 Siberian Huskies will lead you on a scenic 6-10 km long path that lasts about 45-70 minutes with stops to take photos. The expert Musher guide will explain you the basics of dog sledding and how to work with these amazing dogs. Also, if you are interested, you will have the opportunity to help guide the sled with one of our guides. And after the tour, you will be able to get to know the dogs better, play and take pictures with them. The total duration of the dog sledding tour in Mývatn is about 2-2'5 hours.
What should I bring? No matter what time of year you decide to travel to Iceland, it is always important to bring a proper waterproof jacket, warm clothes (waterproof pants like Gore-tex), good waterproof shoes, gloves, light hat, sunglasses and camera
Responsibility All of the activities on the nature happen according to the full and complete responsibility of the clients. ISLANDICA s.r.o. does not take responsibility for any incidents that occur involving the participants while on the excursion. Any action taken by the participants, is at their own risk and ISLANDICA s.r.o. is not liable for any harm, damage or injuries experienced by the participants. By signing up for and making a reservation for this or any other tour, excursion or outing with ISLANDICA s.r.o. the participants accept these conditions. It is possible that the participants will be asked to sign a waiver to ensure understanding of these conditions, declaring that he or she is conscious of the inherent risks that come with these activities. Code: SD-DSS. ID861.