CAMPER 4*4 FOR 3 PEOPLE
4WD van for rent - Volkswagen Campervan type in Iceland - medium category for up to 3 persons
If you want to experience a real adventure in Iceland and go deep into the interior of the island to enjoy nature in all its splendour, don't hesitate to rent this 4x4 van equipped for up to three people. This all-terrain vehicle is one of Volkswagen's new models with easy handling and all the necessary equipment. It has three seats and three sleeping spaces. The raised chassis, large tyres and added bumper make this 4x4 van the best vehicle for any adventurer who wants to reach the most unexplored corners of Iceland. For your convenience, this van rental includes return transfers between the airport or your hotel in Keflavík and the rental office. If you want to travel freely even during the Icelandic winter, book this four-wheel drive van.
WHAT IS INCLUDED IN THE VAN RENTAL?
Price includes: Rent a modern 4x4 van of new Volkswagen models, unlimited mileage, CDW insurance (collision damage waiver with excess), transfers between the airport or your hotel in Keflavík and the rental office, final cleaning, van and equipped kitchen (gas cooker, sink, fridge, crockery, etc.), blankets and sheets, GPS navigation, tablet with integrated information, radio-CD, local VAT.
Not included: Diesel fuel (the vehicle is delivered with a full tank and must therefore be returned), gas, insurance and optional services.
Maximum passengers: 3 passengers
Office hours: 09:00 - 17:00 Monday to Sunday
Pickup place: The office is located in Keflavík. Transfers from the airport and hotels in Keflavík are included in the price.
Vehicle 4*4 description:
The off-road campervan has a manual transmission, 2L TDI and X diesel engine. The good Webasto heating system is efficient enough to keep you warm even during the winter months. The kitchen is fully equipped and has a sink with hot water. Please note that the vans do not have a shower and toilet.
WHAT OTHER OPTIONAL INSURANCES ARE OFFERED IN ICELAND?
The rental of this van includes standard CDW insurance with a deposit of 300.000 ISK, PAI insurance, TPL insurance and anti-theft insurance. VISA/MASTER CARD is required for vehicle collection. If the customer wishes to take out optional insurance, it can be taken out when picking up the van in Iceland: the superior SCDW Premium insurance can be purchased for 3,490 ISK per day and reduces the deposit to 50,000 ISK, and the zero insurance costs 5,990 ISK per day.
Extra services to hire in Iceland: Baby seat: 4 EUR per day. WiFi: 5 EUR per day. Camping table and chairs: 35 EUR per day. Barbecue equipment: 32 EUR per rental. Inverter (12-230 volts): 21 EUR per rental. Extra gas cylinder: 9 EUR per rental. GPS: 11 EUR per day. Towel: 11 EUR per rental. All optional services are to be paid directly at the rental office when picking up the van in Iceland.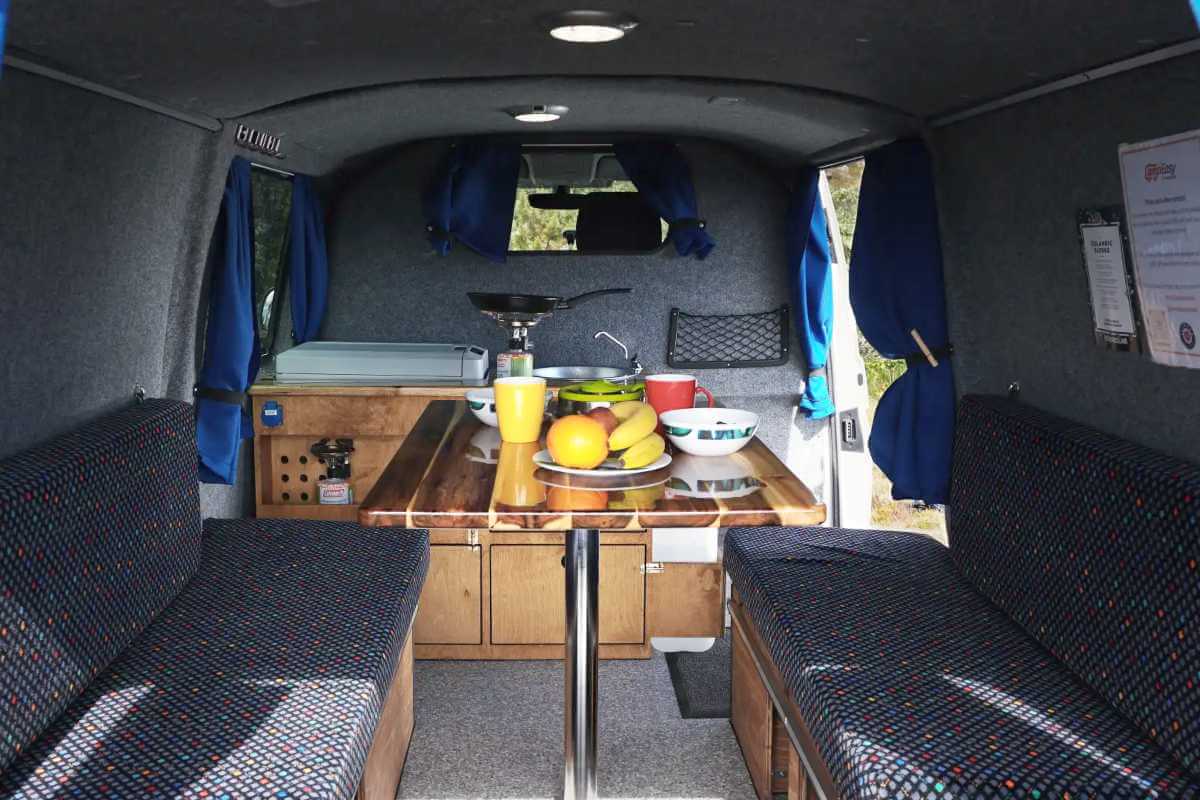 Note: These types of vehicles do not have toilets and showers. In Iceland there are more than 150 campsites around the island where you can shower and spend the night (since 2015 it has been forbidden to sleep outside campsites). In addition, there are thermal pools with showers and hot tubs in every town and village. Entrance fees are usually 800 ISK - 950 ISK per person (about 7 EUR for the whole day).
Important note: The rental of this van includes standard CDW insurance and anti-theft insurance. The CDW insurance is the classic insurance offered in Iceland (collision coverage with credit card registered deposit). The deposit can be reduced with optional insurances. Although many websites provide incorrect information stating that insurance in Iceland is comprehensive or full coverage, this is false information. There is no comprehensive insurance in Iceland, as insurers always have some exceptions which are reflected by the rental companies. By contracting any service through www.viajesislandia.com, the customer agrees to General terms and conditions. ID976
Campervan 4*4 for 3 people in Iceland