12 days around Iceland Grand Tour
JOIN THE MOST COMPLETE ICELAND TRIP INCLUDING SNAEFELLSNES PENINSULA & THE WEST FJORDS
Make the most of your trip joining this incredible tour of 12 days around Iceland, the most complete experience to discover Iceland´s nature, and its amazing landscapes. You will get to some of the most remote parts of the country, including the Snæfellsnes Peninsula and the magical West Fjords. Each day there is some adventure and amazing natural site waiting for you. We stay in charming accommodations in the most stunning locations.
The 12 days around Iceland Grand Tour includes a ferry trip to West Fjords, a visit to a lava cave, an amazing bath in Mývatn Nature Baths, a boat trip between floating icebergs on Jökulsárlón glacier lagoon and a whale watching & sea angling tour at Eyjafjörður fjord.
RESERVE YOUR 12 DAYS AROUND ICELAND GRAND TOUR:
ITINERARY FOR THE 12 DAYS AROUND ICELAND GRAND TOUR
ITINERARY OVERVIEW:

DAY 1: ARRIVAL DAY
DAY 2: GOLDEN CIRCLE
DAY 3: SNAEFELLSNES PENINSULA & FERRY TO THE WEST FJORDS
DAY 4: WEST FJORDS
DAY 5: WEST FJORDS
DAY 6: NORTH OF ICELAND
DAY 7: NORTH ICELAND, WHALE WATCHING & SEA ANGLING
DAY 8: MÝVATN - GEOLOGICAL WONDERS AND NATURE BATHS
DAY 9: EAST FJORDS
DAY 10: VATNAJÖKULL GLACIER AND JÖKULSÁRLON GLACIER LAGOON
DAY 11: SKAFTAFELL & SOUTH COAST
DAY 12: DEPARTURE

DETAILS OF THE 12 DAYS AROUND ICELAND GRAND TOUR
Duration: 12 DAYS / 11 NIGHTS.
Minimum age: 8 years.
Included in the price: 11 nights accommodation in rooms with bathroom, 10 days escorted tour with English-speaking guide/driver-guide, Arrival & departure airport transfer by Flybus shuttle (no guide), 11x breakfast, 10x 3-course dinner, Explore three national parks, Lava cave in Snæfellsnes, Ferry trip to the West Fjords, Folk and transport museum at Hnjótur, Visit to Erik the Red homestead, Visit to a geothermal greenhouse and horse stables, Herring museum, Whale & sea angling tour at Eyjafjörður fjord, Mývatn Nature Baths, including towel, Petra's stone collection, Boat trip on Jökulsárlón glacier lagoon, Lava Centre museum.
Reservations: It is recommended that you reserve your place in this amazing trip as soon as possible, as these small group tours often fill up quickly.
Departures: June 14th, June 28th, July 12th, July 26th, August 9th, August 23rd.
More information about the 12 days around Iceland Grand Tour
Price: EUR 4.270 per person (double/twin room, breakfast included)
EUR 5.280 per person (single room, breakfast included)
EUR 430 for optional VIP-Seating supplement
EUR 200 for optional Empty Seat for passengers that require social distancing on the bus
What do I need to bring? Iceland is a beautiful country, however the weather can be unexpected, at any time of the year, although most especially in winter. Therefore all visitors are encouraged to bring clothing worthy of cold and potential wet weather conditions. This includes a heavy winter jacket and waterproof pants, clothing suitable for hiking on a mountain, proper shoes for hiking, gloves, a warm hat, sunglasses, sunscreen/sunblock cream with UV protection, a camera, a bottle of water and a backpack.
***It is especially important to have hiking shoes when you take the glacier hike, as crampons are ONLY able to be attached to hiking boots and NOT to any other type of shoe, loafer or sneaker.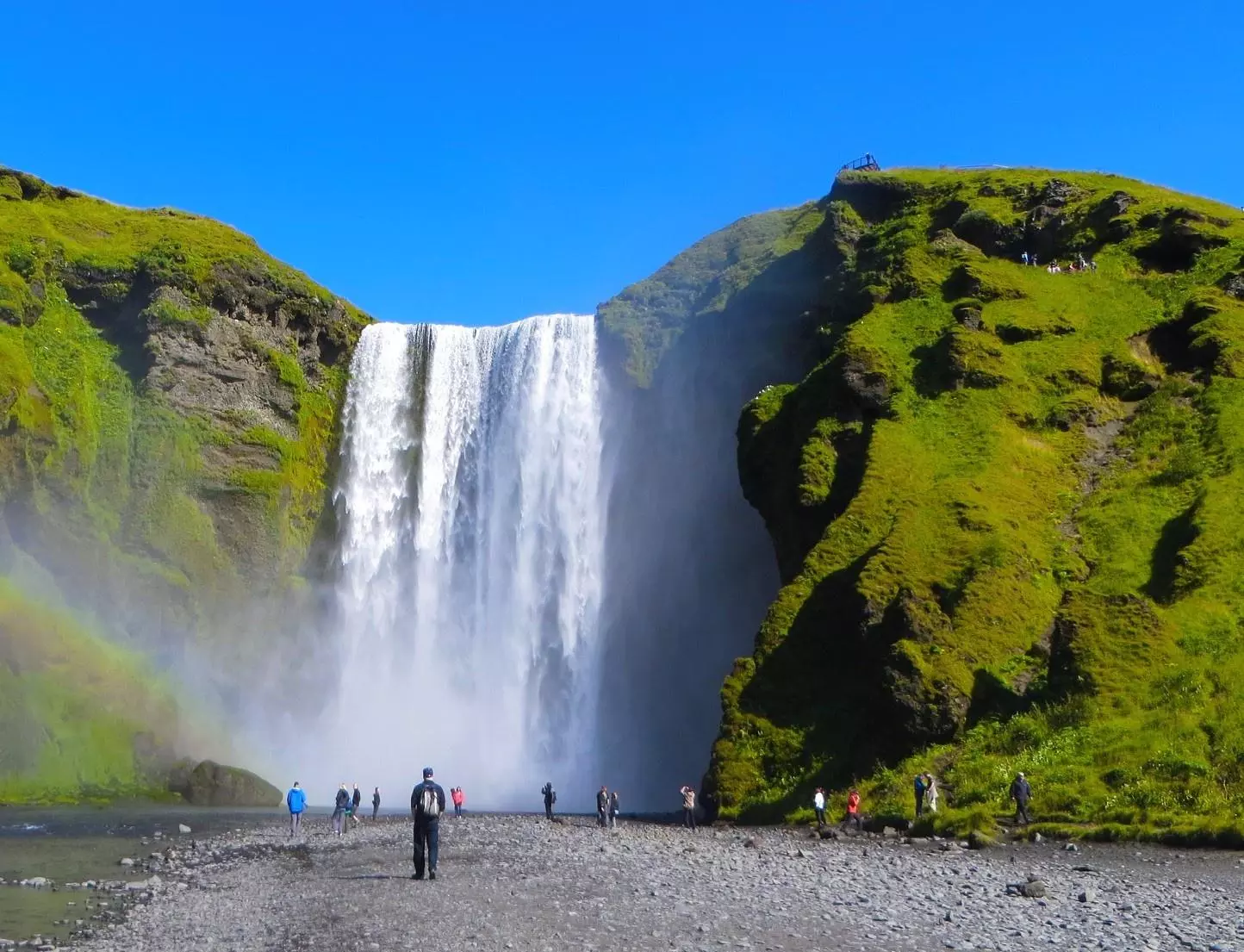 Important Note: You always meet with your tour guide on day 2, just before 9:00 am in the lobby of your hotel. The tour always starts on day 2. Arrival and departure days are to make your flight arrangements easier and to have a free day of leisure. You can either arrive or depart at any time on the first and last day. The tour will always start on day 2 and will end the second to last day. Code: GJT-GTI. ID876.