TRIP TO VOLCANO AREA ICELAND 2023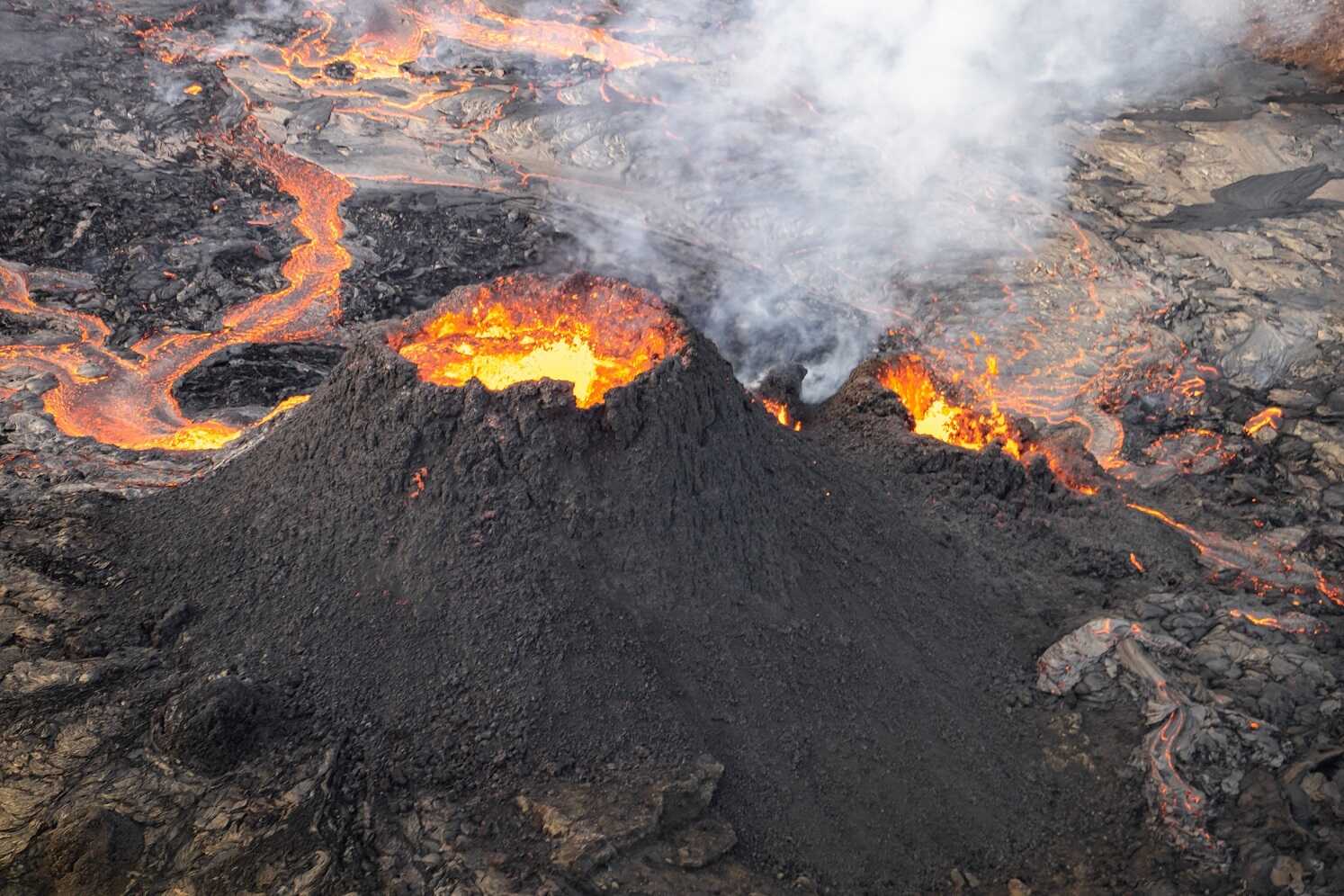 ¡Special offer for the trip to the volcano zone in Iceland with departure 9th of September 2023 * - possible to add more days!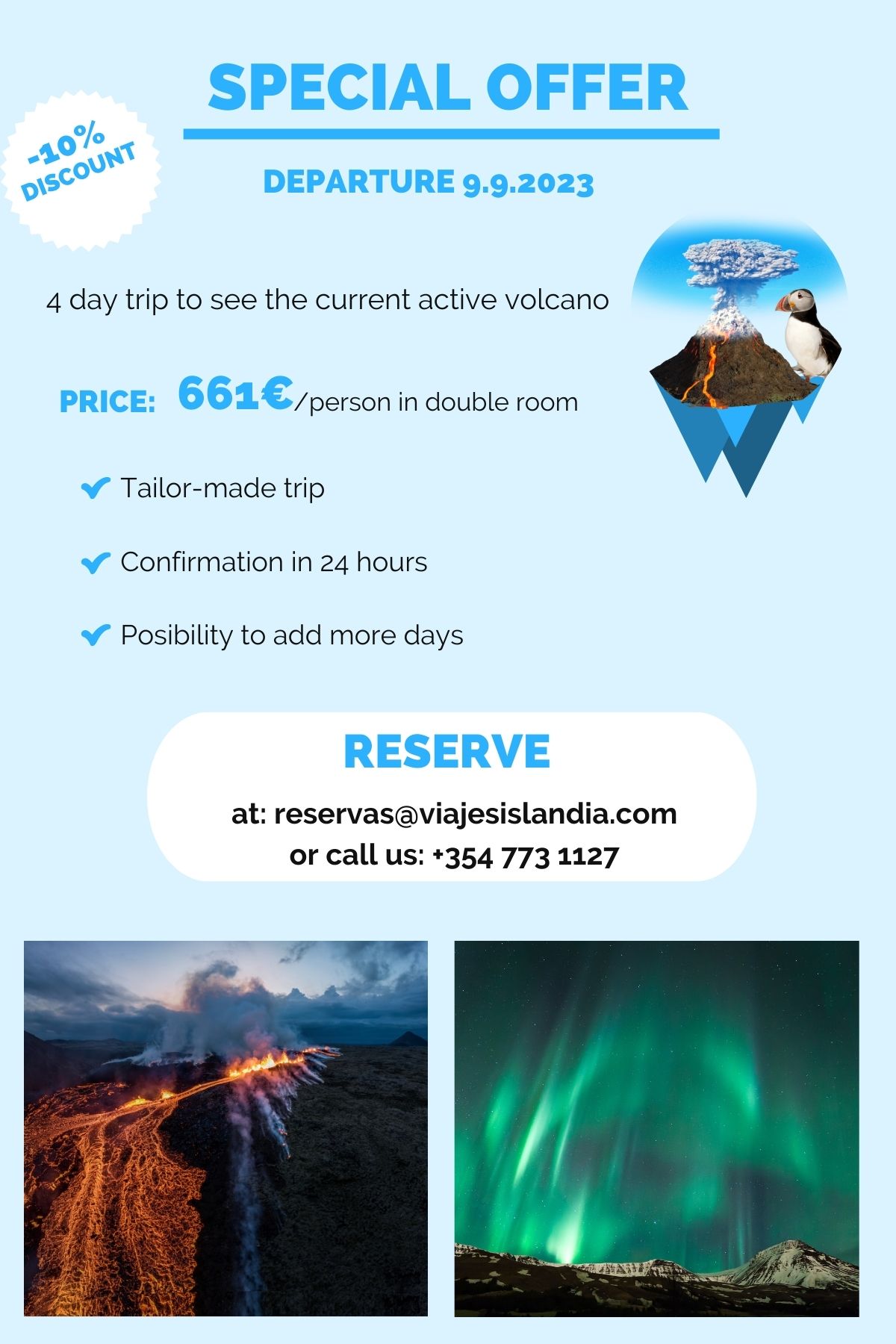 Book the trip of a lifetime for the unique price of 661 EUR per person. We have last 10 places, so book as soon as possible.
DETAILS OF THE TRIP to VOLCANIC AREA IN ICELAND - 4 DAYS:

Date:
9 -12th of September 2023
Duration:
3 nights / 4 days (with possibility to add more)
Price includes:
Trip prepared in detail, 3 nights in quality hotels 3***-4****, Icelandic buffet breakfast, guided tour in English to see the last volcano eruption in Iceland, Kia Ceed rental car with unlimited mileage and superior insurance for 2 days, earthquake simulation, tailor-made itinerary with custom designed route, local VAT
.
Itinerary:
Keflavík - Reykjanes, last eruption site - the capital of Reykjavík - South coast of Iceland and its waterfalls and beaches.
Optional:
Whale watching, Guided tour to see Northern Lights, Entrance to Sky Lagoon or Blue Lagoon, special 6 course dinner. Additional nights before or after the set dates of this trip, additional days of car rental.
ITINERARY OF THE TRIP TO SEE VOLCANO ZONE IN ICELAND
DAY 1: ARRIVAL TO ICELAND 9.9. 2023
The trip begins with the arrival of your flight at Keflavík International Airport. Transfer to Reykjavík. Visit of the capital with our itinerary. Optional entrance fees: Blue Lagoon or Sky Lagoon depending on your flight schedule. The itinerary will be tailored to your needs.
Accommodation in a great 3*** hotel in the center of Reykjavík.
DAY 2: VOLCANIC AREA IN ICELAND 10.9. 2023
Breakfast at the hotel. Visit of the past eruption site. With our English-speaking guide you will visit the last active eruption area on the Reykjanes peninsula. If you have been thrilled by the images of the fascinating eruption of Littli - Hrútur, which ended 7th of August, don't miss this unique opportunity to see the zone with detailed explanation. You will participate in a completely safe Littli volcano tour with a professional guide. With this tour to the volcano zone in Iceland you will get close to the Reykjanes peninsula departing from Reykjavík. You will learn about the curiosities and stories about the area, volcanoes and the country in general. The hike to the volcano is 10 km from the parking area. It is a long walk through slightly difficult terrain, so it may not be suitable for very young children or people in poor physical condition.
If you want, we can even give you the opportunity to see the volcano from above - sincerely a magnificent experience. Book the flight over the volcano by helicopter (this option can be booked here and must be booked in advance because the demand is greater than the supply: https://viajesislandia.com/en/volcano-eruption-iceland-helicopter-tour ).
Night in the same hotel in the capital.
DAY 3: GOLDEN CIRCLE 11.9. 2023
Pick up your rental car in the morning at our office in the capital. Head to the famous Golden Circle with our tailor-made itinerary. Visit Thingvellir National Park where you can walk inside the impressive fissure that divides the continents. Then visit the active geysir that erupts every 6-9 minutes. You will also see one of the most beautiful waterfalls on our planet, Gullfoss. And to finish this excellent day you can visit the Kerid crater.
Head to our hotel located above the hot springs. There you will relax in the hotel with hot springs and jacuzzi. In the evening you can take a walk to try to see the northern lights that are often seen in this area.
Night in the south coast in a hotel with thermal swimming pool, jacuzzi and sau above the spring.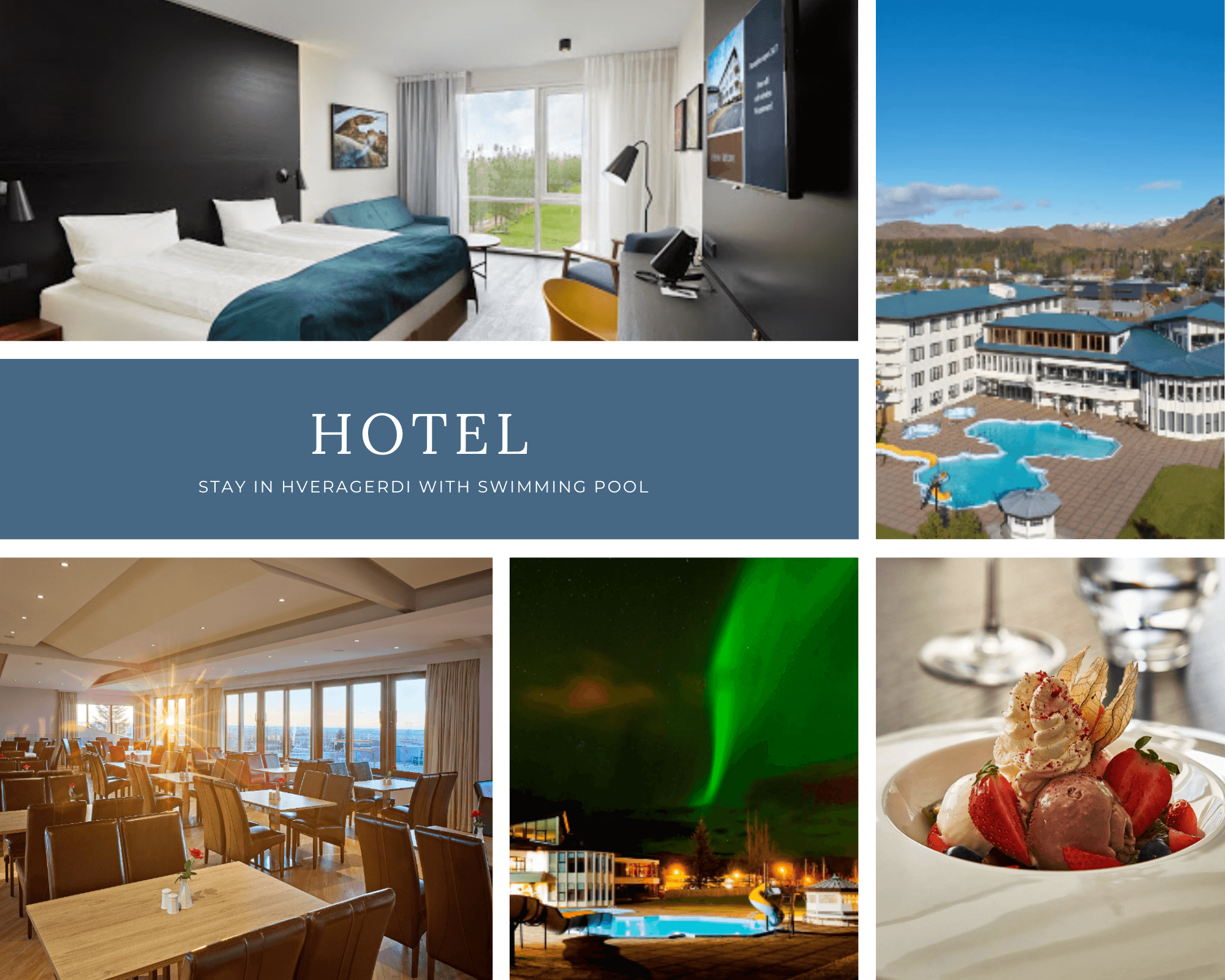 DAY 4: SOUTH COAST OF ICELAND - KEFLAVÍK 12.9. 2023
Desayuno bufet en el hotel. Visita la costa sur y las cascadas y playas. Por la tarde toma rumbo a Keflavík. Devolución del vehículo según el horario de tus vuelos en el aeropuerto internacional de Keflavík. Final del viaje.
O si lo deseas podemos añadir otra noche en la costa sur o en Reykjavík para tu viaje (con suplemento).
Thank you for reserving with VIAJES ISLANDIA.
HOTELS DURING THIS TRIP
We only book quality hotels that we know personally. The hotels have high standards of hygiene, excellent locations and professional services. The hotels have restaurants with excellent chefs so guests can book dinners directly at the hotel.
The trip does not include:
Flights to Iceland, travel insurance, optional services, meals - except as specified, and any service not mentioned in "Included in the price".
Note: The trip is already booked, so the client will receive confirmation within 24 hours after making the payment deposit. To confirm the trip a 15 % deposit payment is requested through a secure credit card link. The remaining payment is made by invoice through a bank transfer. Note that the trip is not guided but you have an itinerary from our guides that you will follow with the rental car and reserved services. Spots on this special trip are limited. Trip code: ICE-SEPT9, ID986.