CORONAVIRUS FREE HOLIDAY IN ICELAND

Coronavirus free holiday: from 4 days to 3 weeks
Worried about the coronavirus but want to enjoy an unforgettable holiday in Iceland? Then you're in luck! We have crafted the perfect chance for you to see ALL of Iceland, with this coronavirus-free holiday tour with minimal contact with others. In one week check off all of the 'must-see' spots with the itinerary optimized for minimum contact with others. Get the chance to explore Iceland more in depth with a luxury motorhome: 'must-see' sites, beautiful hikes, and the stunning views along the road.
Included: Motorhome rental, entrances to 2 cultural sites and museums, an itinerary with the Best of Iceland without the crowds: the Golden Circle, South Coast, Vatnajökull glacier, the Eastern Fiords, Lake Mývatn (hot springs), Húsavík (whales) home of the whales; Akureyri, and Jökulsárlón glacier lagoon.
ALL RESERVATIONS INCLUDE A MOTORHOME RENTAL, ADMISSIONS TO THE SPECIALLY SELECTED NOT CROWDED SITES, PERSONALIZED ITINERARY, VAT.
Loading...
ITINERARY FOR THIS 'CORONAVIRUS-FREE HOLIDAY' IN ICELAND - ENJOY NATURE WITHOUT CROWDED PLACES
By traveling in a motorhome, you and your family and friends can live a wild adventure without fear of coming into contact with many others along the way. Iceland is the perfect country in which you can travel for a 'coronavirus-free' holiday, nearly isolated from others. There are many parts of the island where you may not see another person or vehicle for hours or even a day. And since you are carrying your home on your back (like a turtle) you do not have to worry about staying at hotels or other accommodations where many other people are staying. Your time in Iceland will be like nothing you could have imagined. Take advantage of this opportunity to explore the most remote areas of the island in peace and serenity.
LEARN ABOUT THE INCREDIBLE DESTINATIONS THAT AWAIT YOU DURING THIS 'CORONAVIRUS-FREE HOLIDAY' IN ICELAND
GOLDEN CIRCLE OF ICELAND
Welcome to Iceland! One of the first stops should be a loop through the Golden Circle, one of the top trips made in Iceland. This Golden ring will take you past Thingvellir National Park (where you can see the division of the Eurasia and North American tectonic plates), then to see Geysir (the great-great-great- grandfather of all geysers and one of his namesakes Stokkur geyser who erupts faithfully every 5-8 minutes), and finally the Gullfoss 'Golden' Waterfall (utterly stunning and captivating).

SOUTHERN COAST OF ICELAND
The Southern Coast is another of the top tours in Iceland taken by most visitors due to the fact that you see so much in such as short span of time and distance. You can start with the waterfalls Seljalandsfoss and Skógafoss, each one unique and each one equally beautiful and awe-inspiring. Next up are the magnificent black sand beaches of Reynisfjara which grants visitors amazing views of the basalt columns which sit where the earth meets the ocean, as well as the sea stacks which rise out of the ocean off the coast, creating an eerily beautiful feeling.
The charming coastal town of Vík, showcases a typical Icelandic village, with a beautiful church sitting above the city, from where visitors flock to gain scenes of the glittering ocean below. With any luck, you'll find puffins on the beaches just out of town.

VATNAJÖKULL - EASTERN FIORDS
Rounding the southern coast, you'll encounter the largest glacier in Europe, Vatnajökull. The glacier is majestic and there are so many possible ways to explore, whether to an ice cave, a walk on the glacier, or by snowmobile. This is to your great advantage as with your extended time, you can choose from more than one option and experience the glacier in more than one way, and really feel its might and power.
One of the most popular excursions in this area is to the Jökulsárlón Glacier Lagoon (optional boat tour between icebergs according to season) which offers either a normal or a speedboat tour among the small icebergs which are dancing across the surface of the glacier lagoon. And when these miniature icebergs hit the black sand beaches, they cause the most dazzling spectacle, and give credence to the name, 'Diamond Beach' which is a 'must-see' as well.
Driving to the Eastern Fjords is a much forgotten area of the island, as many pass by it quickly, but with more time than most, you will get to drive in and out all of the little inlets and experience the fjords as they should be experienced: slowly and without rush.

LAKE MÝVATN AND SURROUNDINGS
Heading slightly inland towards Mývatn Lake area is another spot that too many are unable to appreciate fully. This geothermal active area is ripe with hikes, day trips, hot springs and sightseeing. To reach this zone, you'll pass through the old scenic route of Mödrudalur, and stop at a farm of the same name. While driving this route you can see Jökulsárgljúfur National Park with ice capped mountains, with the largest waterfall in Europe, Dettifoss and visit the "Canyon of the Gods", Ásbyrgi.
Most visitors to this area always wish they had more time to explore without the pressure to jump back in the car. Take advantage of your extra time in Iceland and explore in depth the entire zone.
HÚSAVÍK AND AKUREYRI
This is your chance to go whale watching and see some of the most majestic creatures in the sea not to mention the world. Húsavík is the whale capital of Iceland due to the fact that you have a nearly 100% chance of seeing whales if you go on a whale watching expedition. Not only that, the town itself is out of another world or time. It is a small fishing village, quite removed from the capital and all of its on-goings. You can experience how the average man, woman or child lives so far from the rest of the country. Húsavík is a beautiful town and deserves an extra day to amble about and get lost among the fishing docks.
Between Húsavík and Akureyri and just after, there are the Northern Fjords with wonderful lazy roads hugging the coast and granting the few who travel them the opportunity to see spectacular vistas. There are also several islands located in the ocean inlets or further north off the coast, even allowing visitors to enter the Arctic Circle- the only place in all of Iceland.
WEST ICELAND
This might be the area on Iceland that is least explored but which deserves the most attention. The Western Fjords are an intricate maze and web of roads and trails, all of which are worth the time to explore but are usually overlooked due to the lack of time. If you are coming to Iceland to see nature at its finest, cleanest and purest then look no further. You could not see another soul for a day up here and you'll feel as if you were transported to another period in history.
One of the last destinations before arriving back to the capital of Iceland, is Snaefellsnes Peninsula. While it is one of the top day trips from Reykjavík, the visitors only touch the main sites on the peninsula and don't do more than get on and off the bus. Here you can spend one, two or three days traversing the diverse area. The coastline is dramatic, with sheer cliffs at every turn. The old abandoned villages seemed to have been dropped from the sky. Mt. Kirkjufell offers the perfect background for any hike and gives Game of Thrones enthusiasts the chance to see filming locations and feel a part of the international hit show.
These are just SOME of the places you can see if you have anywhere from 1 week to 2 weeks, or even better yet, 3 weeks in Iceland. The small island does not leave you lacking in activities and you'll wish you had even more time.
DETAILS 1 to 3 WEEK 'CORONAVIRUS FREE HOLIDAY' CIRCUIT ICELAND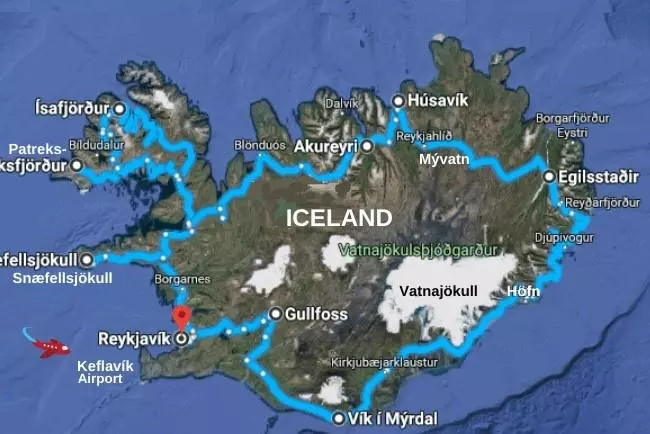 Duration of the tour: YOUR CHOICE! Choose from 4 days to 21 days.
Departures: Available throughout 2020 (some locations may not be ideal in the winter months)
Level of driving difficulty: 1 of 5 possible.
Accommodation areas: Hveragerdi, South Coast, Vatnajökull, Eggilstadir, Mývatn and Akureyri.
Price includes: rental of selected motorhome for the number of days requested (new high quality models with unlimited mileage, standard CDW insurance, GPS navigation programmed in Iceland with all places of interest), pick-up and drop-off at Iceland's KEF-REK international airport, 24-hour roadside assistance, recommended itinerary for your trip, entrance to Glambauer and entrance to Skogar museum, assistance in English/Spanish, local taxes.
Price doesn't include: Expenses derived from adverse weather or due to force majeure, any other concept not specified in the section "Included in the price".
MOTORHOME RESERVATION FAQ
Where I will collect my reserved motorhome?
Our assistant will be waiting for you at the Keflavík airport with your name written on a sign in the arrival hall. He will pick you up with all luggage and take you to the rental station (5 minutes driving) where you collect your motorhome. Of course you can reach our rental station in the Keflavík area on your own if you prefer this option. After returning the motorhome to the rental station our assistant will take you back to the Keflavík airport. Both transfers are included in the rental price.
I have no experience with motorhomes, where will I learn how to drive and operate a motorhome and it's accessories?
No worries, at the central station during the pick-up procedure we will show you a 20-minute video about driving and maintaining all equipment. Then we will show you step-by-step each detail in your motorhome. (the best way for getting your hands-on experience) In addition, you have a manual in the motorhome and also a 24-hour help-line with an assistance.
Is it difficult to drive a motorhome in Iceland?
No, it is not. We recommend you to be more careful while driving as motorhomes are bigger than standard cars. Normally after 20 minutes you will have gotten accustomed to the experience and how the motorhome behaves in curves and crosses. We have never had a customer who couldn't manage to drive their motorhome so far. No stress :) You will quickly learn and go on to enjoy an unforgettable trip.
Why travel by motorhome in Iceland?
Iceland is a perfect country for travelling by motorhome to witness unique nature and beautiful landscapes that you can explore on your own, with complete and total freedom and without the limits or obligations of other forms of travel. Imagine the feeling of waking up each day in a different part of paradise and stepping out into a fascinating new world (there are about 170 registered campsites in Iceland!). Reserve a rental motorhome and create your own trip on the go, respecting of course the nature and laws of Iceland.
Do you want to spend your vacation differently than you normally do?
In Iceland you will discover another world. You will see beautiful nature, landscapes full of water, craters, volcanoes, waterfalls, geysers, nature baths and much more. You will enjoy fresh and tasty cuisine. Book a motorhome rental and traverse Iceland in 7 days or more. Seven days is the minimum time recommended to enjoy a rejuvenating vacation without stress. With a week (or more) you will have enough time to see the most famous places in Iceland during your travel. Rent a motorhome with our company and we will prepare your customized and detailed itinerary.
What does your motorhome rental in Iceland include?
All our motorhome rentals include unlimited mileage, CDW insurance, local VAT, a fully equipped kitchen and final cleaning. Motorhomes also include free transfer from / to Keflavík International Airport and come with GPS navigation or a tablet with a 4G Internet connection.
Where can I park and leave our motorhome overnight in Iceland?
The campsites in Iceland are located in more than 120 incredible places around the island, so you will not have any problems finding a place to park the motorhome. There are many differences between each of the campsites (from those that offer all possible comforts to the the most basic ones, which are located in the middle of nowhere and those that do not even carry a charge). You can read more information about the available campsites at: https://www.nat.is/camping-in-iceland/ and http://www.campingcard.is/
What are the advantages of booking a motorhome with ISLANDICA?
ISLANDICA s.r.o. (www.viajesislandia.com) has been successfully working in Iceland since 1996. We continuously compare our prices with competitors to have the best value/price deals on motorhome rentals in Iceland. We only offer models with guaranteed quality so that the customer is always satisfied. The rental of motorhomes in Iceland can be difficult during the summer months as the vehicles quickly sell out. That is why we recommend making reservations in advance. In addition, with some motorhomes you can get discounts for early bookings, so book early! A 15% deposit of the total price is required to confirm a reservation. We provide a tailored itinerary for each motorhome rental in order to enjoy Iceland in the best way possible for the travelers. ISLANDICA also provides assistance during your journey.
What shall I do if I have any issues or if I need assistance?
You can contact an ISLANDICA travel agency through the direct assistance line (email or phone).
Important note: These packages are operated by ISLANDICA s.r.o. To confirm the reservation the payment of the deposit of 15% is required. The remaining payment must be made 45 days before the start of the trip. When confirming the reservation, the client will receive the travel contract. By contracting any service through www.viajesislandia.com, the customer accepts our terms of service and cancellation. We recommend to clients who take out travel insurance and cancellation insurance in their country of origin. Ultimate circuit around ICELAND. Travel code CV-TC-E. ID803
Coronavirus free holiday trip in Iceland